£460m boost for Gwynt y Mor and Westermost Rough wind farms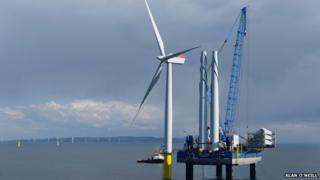 Two wind farm projects off the coasts of north Wales and Yorkshire have received more than £460m in investment.
The Green Investment Bank is buying a 10% stake in Gwynt y Mor near Llandudno in Conwy and a 50% stake in Westermost Rough five miles offshore from Hull.
Gwynt y Mor is the largest project of its kind being built in Europe and will generate power for 400,000 homes.
Westermost Rough will use 35 turbines which are almost double the size of most currently operating in the UK.
Construction on the site has just begun, while the 160-turbine Gwynt y Mor is due to be completed later in 2014.
Shaun Kingsbury, chief executive of the Green Investment Bank, said: "The UK has ambitious plans to build on its position as a world leader in offshore wind.
"We have two roles to play in supporting those plans: firstly, to directly invest to help developers recycle their capital into the next wave of new renewable energy projects; secondly, to invest on fully commercial terms to create a demonstration effect which others will follow."
Business Secretary Vince Cable said: "The Green Investment Bank is playing a game-changing role in financing our transition to a green economy.
"The bank has now invested well over £600m in five offshore wind farms and mobilised £1.3bn of total funding. This industry has the potential to generate thousands of new skilled jobs and billions in business investment."
Energy and Climate Change Secretary Ed Davey said: "The UK is number one in the world for investment in offshore wind.
"This news is proof of the strength of investment in British energy infrastructure - and proof that the government's strategy is working - supporting green jobs across the country and delivering secure energy supplies for the future.
"£34bn worth of investment has been announced since 2010 thanks to our electricity market reforms which give investors long-term certainty."