£11.8m in payouts after Newport and Glamorgan uni mergers
By Charlotte Dubenskij
BBC News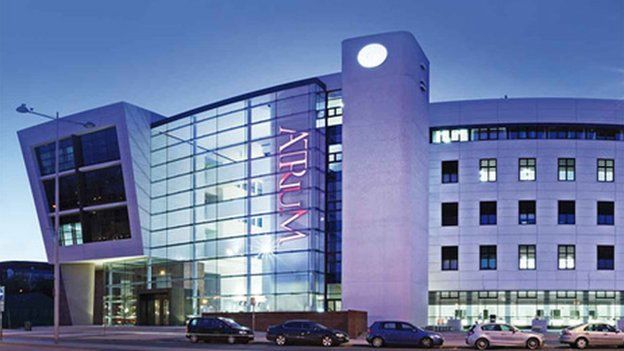 A merger between Newport and Glamorgan universities last year resulted in 261 job losses costing £11.8m in payouts, BBC Wales has learnt.
The figures relating to the newly formed University of South Wales (USW) were revealed in a Freedom of Information request by BBC Wales.
The merger of the universities meant that the average payout to staff who lost their jobs worked out at £45,000.
USW has five campuses across south Wales with more than 33,500 students.
It formed in April 2013 and became Wales largest university.
A spokesperson for the university said the merger included removing duplication and restructuring to reflect the needs of the new organisation.
They added: "As with any responsible employer, the university's aim has been to find the right balance between making organisational efficiency savings to fund improvements in student-facing services, and offering individuals who choose to leave a dignified and fair package."
"The cost of the severance scheme operated by the university is in line with the budget plans set out as part of the process. Cost savings made as a result of this scheme will be realised within 12 months."
The FOI also revealed more than £28m has been paid out over a three-year-period on terminating staff contracts at universities across Wales using compromise agreements.
These so-called gagging clauses are often used when a relationship has broken down between the employer and employee, but are also commonly used when there's a restructure and resulting redundancies.
In total 931 staff posts were terminated over three years.
NUS Wales president Stephanie Lloyd described the pay-outs as "completely excessive" and said changes to the sector were not supposed to be a cost-cutting exercise.
"We need to be monitoring these payments and holding universities to account, because at the end of the day they are public bodies and this is public money," she added.
But Welsh government advisor Professor David Reynolds said it was an opportunity for the sector to emerge stronger.
"There are lots of examples in higher education where universities have used this process to make themselves better institutions," he said.
"As an example University of Exeter - one of the most rapid improvers in the sector - did precisely these kind of things when a new vice chancellor arrived in 2004/05."
Over that three year period covered by the FOI, Cardiff University cut 266 staff posts at a cost of around £10m, the majority coming in 2012/13 through restructuring.
Swansea Metropolitan University said it had terminated no jobs through compromise agreements and paid out no money in those three years while Bangor University and Swansea University paid £220,000 and £202,000 respectively.
Related Internet Links
The BBC is not responsible for the content of external sites.