Complaints over BBC Radio Wales phone-in's Welsh debate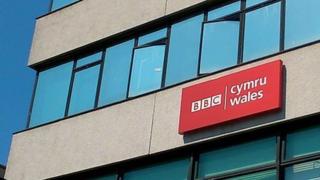 A BBC Radio Wales phone-in about the Welsh language received more than 20 complaints, said media watchdog Ofcom.
Morning Call asked listeners for views on the language following a news story where a Cardiff shop worker apologised for saying it got on his nerves.
BBC Wales said it was a balanced debate but apologised for a "poorly worded" tweet promoting it.
Sent out shortly before Monday's programme, it asked: "Does the Welsh language irritate you? Why?"
Ofcom is to look at the complaints before deciding whether to investigate.
The debate was sparked after it emerged an employee of a vintage clothes shop apologised after complaining on social media about two customers speaking Welsh.
Morning Call presenter Oliver Hides told listeners about the incident before asking them for their views on the language, including whether they were irritated by it.
Ofcom said on Tuesday it had received 22 complaints, which relate to the topic of discussion and the discussion itself.
"Ofcom will carefully assess all complaints before making any decision about whether or not to formally investigate," said the regulator in a statement.
BBC Wales said in a statement: "Morning Call is an opportunity for Radio Wales listeners to take part in topical debate on matters, often controversial, that are in the news.
"The programme itself presented a balanced discussion across the course of an hour, with a wide number of opinions being aired.
'Serious concerns'
"However, one of the tweets sent out in advance of the programme was poorly worded and did not appropriately capture the editorial intention behind the programme.
"Naturally, we apologise for any offence the tweet might have caused."
The office of the Welsh Language Commissioner Meri Huws said she had received no complaints relating to the programme.
A Cymdeithas yr Iaith Gymraeg (Welsh Language Society) spokesperson said: "We do have serious concerns about the editorial policy of Radio Wales generally.
"We think the tweet was seriously discriminatory, and we are pleased to learn of the complaint to Ofcom.
"BBC Radio Wales has, on a number of occasions, skewed the debate by pretending there's a real argument about whether people want the Welsh language to survive or not.
"Framing the debate in that way does not reflect the debate in Wales - where all but a tiny minority want the language to thrive - rather, they should focus on questioning government policy and their failure to respond to the crisis revealed by the recent census results."