NHS complaints 'worry for patients', says nurses' leader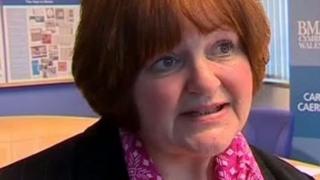 A nurses' leader has said criticisms of care in the NHS are "worrying for patients" without claims being proven.
The director of the Royal College of Nursing in Wales was reacting to MP Ann Clwyd's comments that she had received letters from people outlining the poor experiences they had in Wales.
Tina Donnelly says staff have not had an opportunity to react to claims.
Ms Clwyd has also been critical that information about her husband's death in 2012 was obtained by the RCN.
The Cynon Valley Labour MP led a UK government-commissioned inquiry into how NHS hospitals in England handle complaints and said she also received hundreds of letters from Welsh patients outlining poor experiences they had suffered.
Her work on the inquiry came about after a BBC interview in which she broke down, describing the care her late husband had received.
She said her husband Owen Roberts had been treated "like a battery hen" at Cardiff's University Hospital of Wales where he died in 2012.
Ms Donnelly said: "In relation to an area whereby nurses are reported to be uncaring and being treated like a battery hen, it really is absolutely essential that those people are held to account if indeed it is proven.
"But those individuals have to have their say. They have to be investigated and, at this point in time, the Royal College of Nursing .... [has] not been in any shape or form been asked to give evidence to any inquiry or neither have we been party to it."
'Confidence'
Last week Ms Clwyd called for bosses at Cardiff and Vale University Health Board to resign claiming the organisation had released private details on the investigation into the death of her husband.
The health board confirmed that information about her husband's case had been released in response to a Freedom of Information Act request.
Ms Donnelly told BBC Radio Wales's Sunday Supplement programme the information sought was already in the public domain, as mentioned by Ms Clwyd in the House of Commons.
"I understand there was an investigation by the health board specifically to the issues raised on the floor of the House of Commons and they were reported on in April last year," said Ms Donnelly.
"It's a year on and they are still perpetuated in the press.
"It must be hugely worrying for patients who want to come into the hospital ... they have to have confidence in the hospital.
"What we have formally requested, and only just received, is the response from the health board to each of the points she raised in the House of Commons and in the public domain."
Ms Donnelly stopped short of calling for an inquiry into the wider issue of complaints about the Welsh NHS, saying it was for Welsh government ministers to decide.
Last week, First Minister Carwyn Jones told AMs Ms Clwyd had provided "unattributable" comments that "can't be investigated".
Ms Clwyd later agreed the identity of patients had been protected in some cases but insisted she had provided Mr Jones with a comprehensive summary of the complaints raised.
'In the open'
Ms Donnelly said: "From our perspective in Wales we are seeing a very high profile individual constantly criticising the NHS in Wales.
"The minister should be saying 'let me see the facts that you are presenting'.
"Let's have that out in the open. I don't dispute that."
Ms Clwyd has said her criticism of the Welsh NHS is not personal and she will continue to call for changes.
A Welsh government spokesperson said that on December 3, 2013 Ann Clwyd provided the first minister with a series of anonymised extracts from letters she had received along with other available information, data and criticism about NHS Wales.
"Unfortunately, none of these has enabled the Welsh government or the NHS to investigate the allegations of poor care which Ann Clwyd has persistently raised over the last 12 months," he said.
In February Health Minister Mark Drakeford launched a review of the NHS complaints handling process in Wales to establish "what needs to improve".