Bid to list BBC Wales HQ in Cardiff is rejected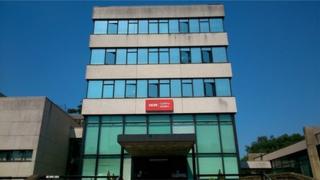 BBC Wales' headquarters in Cardiff will not be given listed building status, the culture minister has said.
John Griffiths said he did not propose to list any part of the Llandaff site as it did not have any special historic or architectural interest.
BBC Wales has been trying to find a buyer for the site as part of plans to move to a new purpose-built broadcasting base.
Cadw had been considering whether the building met listed status criteria.
It followed a request to the conservation body for the site, designed by architect Dale Owen, to be listed.
Mr Griffiths visited the site on 6 March and said he made his decision after considering the strict criteria for listing.
Cadw recommended the buildings for listing on the basis it was a sensitively designed complex of buildings by one of Wales' leading modernist architects, and as an "exemplary modernist building".
It also said it had special historic interest because it is the only purpose-built national public service broadcasting centre of its period in Wales.
But Mr Griffiths said the architect's reputation was largely confined to Wales and the building had been unsympathetically altered since it was opened.
He said the building was not where BBC radio and television broadcasting began in Wales, and said the historic stature of the building in Llandaff should not be confused with the stature of BBC Wales as an institution.
BBC relocation
A Welsh government spokesman said: "After considering the arguments presented, the minister has decided that BBC Broadcasting House is not of sufficient special architectural or historic interest to be listed."
A spokesperson for Cadw said it had provided advice in terms of the merits of listing BBC Broadcasting House due to its architectural and its historic interest, but the final decision on the matter rested with the minister.
A BBC Wales spokesperson welcomed the decision.
"We continue to work to build the strongest possible business case for relocation. The BBC Executive and BBC Trust will consider our final proposals for the new broadcast centre in the coming weeks," a spokesperson said.
Broadcasting House in Cardiff has been home to BBC Cymru Wales since 1966.
In August, the corporation announced that it was putting Broadcasting House and the building opposite, Ty Oldfield, up for sale and looking at moving to another site in Cardiff.