Tarian officers seize £1.9m of drugs in past year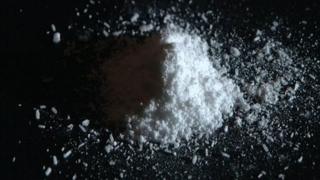 Drugs with a street value of £1.9m have been seized by police tackling organised crime in Wales in the past year.
Tarian officers made 79 arrests and recovered £992,000 made from criminal activity.
Most of the team's work is targeting drugs but it also investigates child exploitation and human trafficking.
Det Supt Rhiannon Kirk, who leads the Tarian unit, said it had a 100% conviction rate last year.
Tarian is a regional task force, intelligence and recovery team of undercover officers, set up to tackle serious and organised cross-border crime that impacts upon Wales.
In the past two years 78 people have been sentenced to a total of 209 years for various offences, mostly involving the supply of class A drugs.
It is staffed by officers from South Wales, Gwent and Dyfed-Powys Police forces who also work with forces outside of Wales including the National Crime Agency.
A report reviewing its work in 2013 said the team monitored 167 active organised crime groups, made up of 979 people.
'Success rate'
In the past year officers have dismantled 31 organised groups, resulting in a number of drugs seizures.
They included large amounts of heroin, cocaine, ecstasy, amphetamine and cannabis, with a combined street value of £1.9m.
They also confiscated and recovered hundreds of thousands of pounds from the drugs trade.
Currently the task force has five outstanding operations, involving 39 defendants who are waiting to be sentenced.
Convictions in the past year included an operation to dismantle a Mephedrone smuggling ring, importing the drug from India.
"We at Tarian work relentlessly to pursue those involved in serious and organised crime with the aim of disrupting their activities and bringing them to justice," said Det Supt Kirk.