Royal Mint: Technology in Wales makes new £1 coin possible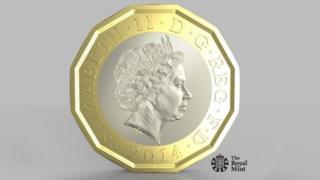 The new £1 coin, which is said to be the most resilient in the world, would not have been possible without award-winning technology developed in Wales, said the Royal Mint.
The £2m technology has been four years in the making at the mint's HQ in Llantrisant, south Wales.
Security technology used in bank notes is being embedded into coins.
The move comes amid concerns about the existing coin's vulnerability to counterfeiting.
The new coin is based on the design of the old threepenny bit, a 12-sided coin in circulation between 1937 and 1971.
The technology is expected to help eradicate forgeries of all £1 coins.
Andrew Mills, the Royal Mint's director of circulating coin, said: "iSIS (Integrated Secure Identification Systems) is technology that has been available in bank notes for 20 years but now we can actually use it in a coin.
"Up until now it's been more difficult to use in coins because they're metal, but now we can."
The Royal Mint said fake £1 coins cost around £2m a year, with an estimated 45 million forgeries in circulation.
The current electro-magnetic signature in a coin can wear over time making forgeries harder to detect but iSIS technology can sift through at least 4,000 coins a minute to identify fakes.
"As the coin ages, the technology doesn't wear," Mr Mills said.
"Ideally, with iSIS, we can identify every counterfeit."
Mr Mills added: "The development of our iSIS project has enabled us to develop a new generation of low cost, high security, plated coin with multiple levels of banknote-strength security built in."
In January, the Royal Mint won the Wales Innovation Award 2013 for developing iSIS.
Mr Mills said the award was recognition for the years of work that had gone into developing coin security.
"We own the patents as well," he said. "So we can go on to use it worldwide."
The new coin is set to be introduced in 2017.