Budget 2014: Economic green shoots but living standards true test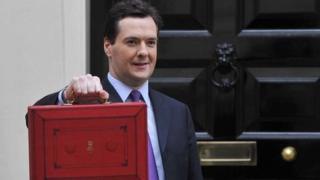 They say there are green shoots.
The UK economy has started to grow and unemployment in Wales has fallen below the UK average.
As the Chancellor George Osborne prepares to set out his Budget on Wednesday, there may be some grounds for optimism though opposition parties claim living standards are the true test.
At Abergavenny Garden Centre there are plenty of green shoots and fully grown plants too.
It's a busy time for this family run business in Llanfoist which was established in 1957.
It has seen and survived the highs and lows of the economy over more than six decades.
According to James McDonald who's the third generation to run the business, the year has started well - though the weather could be the key factor.
"At the moment it seems to be on the up. People do seem to be coming out and spending more money, especially since the nicer weather. All our sales figures are up from last year," he said.
"Hopefully that's a sign of good things for the future."
The Chancellor claims to be sowing the seeds of economic recovery, but he's unlikely to declare in his Budget statement next week that all the ground work has been done.
Aberconwy MP Guto Bebb says his Conservative colleague needs to stick to his plan.
"I know it sounds boring but my view is 'steady as she goes'," said Mr Bebb.
"I think we are now seeing a recovery in the economic situation but we are still borrowing over a £100bn a year so I think it's very important that we show a steady way ahead which is clear to the people of this country.
'Massive crisis'
"I think we need to look very carefully at the way the tax system is becoming very oppressive on middle earners and obviously we need to show that those at the lower end of the pay spectrum are getting some relief."
According to shadow Welsh Secretary Owen Smith there is a "massive crisis" in living standards despite some economic growth.
"The fruits of that growth are only being enjoyed by the very wealthiest in Britain," said the Pontypridd MP.
"They're not being shared. They're not being felt here in Pontypridd. What we feel here in Pontypridd is that living standards are still under massive pressure, prices have gone up, wages have been stagnating for a long time."
Observations from Abergavenny Garden Centre support some evidence of increased consumer confidence.
But Plaid Cymru's treasury spokesman claims the UK economy is profoundly unbalanced.
Jonathan Edwards said: "The record of business investment in the UK economy is amongst the worst in the whole world.
"That's something the UK government should be extremely worried about because unless business investment starts picking up you're going to see a very lopsided recovery and there will be another crash equally as disastrous as that in 2008."
The Conservatives' coalition partners in the UK government claim their influence has been crucial in ensuring the lower paid pay less income tax.
Liberal Democrat Jenny Willott would like to see the Chancellor taking further steps in that direction.
She concedes that the impact of an improving economic picture has not been felt in Wales to the same extent as in parts of England.
"We are now really starting to see progress in the Welsh economy and jobs are starting to be created and unemployment is starting to come down," said the Cardiff Central MP.
"I think those are the areas where communities really notice actually, when people are able to get back to work and jobs are being created and businesses investing."
In Abergavenny they are hopeful the green shoots will thrive but the spring sun could be as significant as the Chancellor's statement on Wednesday.
Sunday Politics Wales is on BBC1 Wales at 1100 GMT.