£21m boost to attract science talent in Sêr Cymru scheme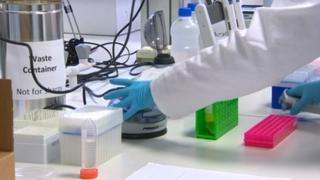 Three science research networks will share £21m as the first phase of a plan to attract world-class scientific talent to Wales is completed.
It follows the launch on Thursday of a low carbon, energy and environment science network that will be based at Bangor and Aberystwyth universities.
They join projects on life sciences in Cardiff and advanced engineering in Swansea.
The Welsh government is investing £50m in total in the Sêr Cymru scheme.
Announced in March 2012, the project hopes to encourage leading professors to move to Wales to work and boost research and the economy.
The first of the networks to get up and running was in September with the life sciences and health network based at Cardiff University.
It is focusing on the fight against cancer, infectious diseases, and brain conditions such as dementia and Alzheimer's Disease.
The second network at Swansea University is developing research that relies on hi-tech engineering, manufacturing and computer modelling - and already includes collaborations with the European Space Agency.
Innovation 'key'
The final piece of the jigsaw is the work that will be carried out by both Bangor and Aberystwyth scientists.
Their research efforts will look at how we use our land, water, food and energy resources - and the challenges posed by climate change.
"Science and innovation are key pillars of a thriving economy," stressed science minister Edwina Hart, who was launching the latest science network in Bangor.
"Boosting our science research capability is vital to improving our economic wellbeing and securing a more prosperous future for Wales."
Wales' chief scientific officer, Prof Julie Williams, added: "We already have excellent, high quality research taking place here in Wales but we need more of it.
"These networks will help us achieve that in areas that have the potential to create long-term, lasting economic and social benefits for Wales and beyond."