Legacy of the miners' strike in Wales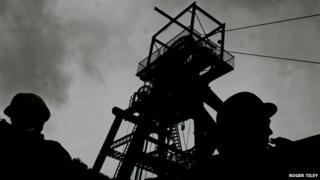 Few industrial disputes have caused so much devastation for so little gain.
Even one of its key architects in Wales - then NUM official Kim Howells - described the 1984-5 miners' strike as an unwinnable struggle.
But 30 years on, has anything improved in the communities rocked by what has been labelled the determining event in 20th Century industrial relations?
Health benefits, environmental improvements, investment in infrastructure and the elevation of women's standing in Welsh society have all been cited as positive, albeit unforeseen, consequences of the year-long strike.
Yet few seem to agree that the gains were worth the enormous sacrifice - both at the time and since.
Gwent Valleys photographer Roger Tiley was on the picket lines during the strike and he returned to see what had changed.
"The first thing you notice is that the villages I snapped in 1984 are all much more photogenic today," he said.
"It's amazing to see just how quickly the blacks and browns of industrialisation have been replaced by beautiful, lush, green countryside.
"But then the second thing which hits you is how much more still all the photographs are.
"In the 1980s the communities around the pits were bustling, teaming hives of activity, whereas today they're eerily still.
"Some of them look much smarter, and the transport links have improved, especially where I come from in Crosskeys, but there doesn't appear to be anyone using them, certainly during the day."
Alan Jones of Ffynnongroyw heritage group in Flintshire believes this is because many of the towns and villages which were subject to pit closures now bear no relation to the communities of the 1980s.
His organisation has become so concerned with the loss of their mining roots with the nearby Point of Ayr colliery that they have raised about £4,500 to have the pit's former headgear put up again as a permanent memorial.
Mr Jones said: "Many of the villages like Ffynnongroyw seem to have improved on the face of things, but it's all cosmetic, because when you walk down the street there now you struggle to see a face you'd have recognised from 1984.
"If rising house prices and satellite dishes are signs of improvement then fine, but lots of places have ceased to function as communities in their own right.
"Rather, what you're finding is that people are having to do 50 or 60 mile round trips to find work in Wrexham, or further afield, and the mining communities are no more than dormitory villages."