Council cuts: Business leaders call for firms to provide services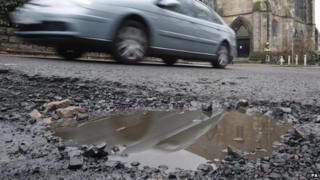 As councils finalise their budgets, it is clear that many services will be squeezed.
But local authorities are being urged by business leaders to work with small firms and social enterprises to benefit the community and the local economy.
Iestyn Davies from the Federation of Small Businesses Wales, which represents 10,000 members, said councils already contract local businesses to provide services for them.
He added: "For example, local authorities may employ contractors to repair their buildings or roads or to clean premises.
"In these times of austerity what is paramount is that services are delivered within the community, and that the funding spent on these services by local authorities is recycled within the locality.
"However, that doesn't mean that services have to be provided by people employed directly by the council. They can be provided by small local businesses and social enterprises in a cost-effective way that still supports the local economy.
"We would urge all local authorities to work with small businesses in their area to provide distinctive local services, because such services do not need to be delivered by huge and faceless outsourcing businesses."
For over 40 years, Owens Logistics has been operating a haulage and warehousing business.
The company employs 500 people and has depots in Llanelli, Port Talbot, Bridgend, Newport and Wrexham.
It operates over 200 vehicles including HGVs and has around 500 trailers in its fleet.
In March last year, Owens opened a new element to its business.
The UK government decided that it would no longer own and operate the test facilities used by VOSA - the agency responsible for ensuring the roadworthiness of HGVs and lorries.
The VOSA staff who carry out the annual MOT tests remain employed by the UK government but they are now using private sector facilities, with the state-owned facilities being closed down to reduce costs and the investment required.
This allowed Owens to set up an authorised testing facility (ATF) at its Llanelli base, where inspections and MOTs are carried out by the VOSA inspectors.
Day's Motor Group established a similar site in Swansea, while NR Evans Distribution opened up its facility in Cross Hands.
Fair treatment
The UK government closed down the Ammanford site which VOSA was running.
Trade unions, including Prospect, the union for professionals such as engineers and scientists, campaigned against transferring testing to private facilities.
They raised concerns about companies' fleets being tested at their own sites and whether competitors would be treated fairly when they booked their vehicles into another firm's ATF.
But the ATF manager at Owens, Ian Jarman, said that it benefited local businesses and also meant the private and public sector working closely together since Carmarthenshire council was a customer.
He added: "There is an additional revenue stream. It's not a large profit-turning operation but it's created three jobs in Owens."
"There's a cost benefit. The vehicles are being serviced and MOT'd at our own depot rather than taken off elsewhere on a 20-mile round trip.
"There's obviously a fuel saving. We're improving our environmental footprint by not going on these journeys."
Social enterprises are another route that has proved popular as council budgets have tightened.
The Swansea Tennis Centre was a loss-making facility taken over by a group of volunteers when the council threatened it with closure.
The not-for-profit organisation that runs it, TS365, has turned it into the most successful four indoor court venue in the UK.