Land & Lakes 800-lodge resort plan moves step closer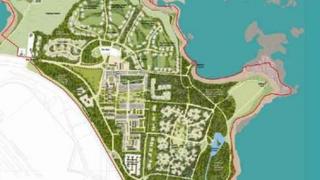 Plans for an 800-lodge resort at a country park on Anglesey have overcome another hurdle.
Land & Lakes claims its proposals for a "quality destination" in Holyhead will create 600 jobs on three sites.
It was referred to the Welsh government due to the scale of the project after Anglesey council gave it the go ahead.
The minister has decided not to "call in" the plans for further scrutiny meaning the council can now hold further talks with the developer.
The plans have split opinion on the island with some saying it will create jobs while others worry it could lead to over-development in the countryside.
Next steps
Anglesey council said the Housing and Regeneration Minister Carl Sargeant told them on Friday that he would not be calling in the application for review, adding that the authority should determine the plans as it sees fit.
Councillor Arwel Roberts, Anglesey council planning portfolio holder, said: "These plans represent the largest ever application to be submitted to the Isle of Anglesey Council.
"I am pleased with the minister's decision that the proposals should be determined by the local authority and we are now in a position to take the next steps and continue discussions with the developer."
The proposals were given the go ahead by the council in November, a month after originally being rejected.
The development will be based at three sites at Penrhos, Cae Glas and Kingsland.
Spas and restaurants
Land on the country park at Penrhos is the proposed base for the leisure resort, with plans for about 500 lodges and cottages plus a water park.
There will also be a sports hall, spas, saunas, restaurants, and walking and cycling routes.
Neighbouring land at Cae Glas will be used in the short term to house workers building the planned Wylfa B nuclear power station and will also be home to a hotel, football and cricket pitches.
There is also an option for an extra 315 lodges and a nature reserve will be created.
The Kingsland site will have 320 houses for construction workers building on the Cae Glas site, before being turned into residential housing.
Land & Lakes has been working with land owners Anglesey Aluminium Metals, the council and the Welsh government on the matter.
The former smelting works at the Anglesey Aluminium site was closed in 2009 and put up for sale the following year, with offers invited in the region of £10m.