Wales 'clobbered' by council tax rises, says Conservative AM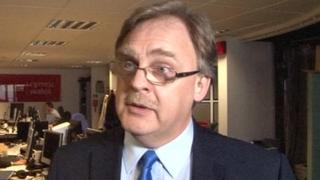 Council tax payers in Wales are being "clobbered" by steeper rises than the rest of Britain, according to a Conservative AM.
Mark Isherwood said Wales faced the "highest council tax increases in the UK" with an average rise of 4.2%.
A separate survey of councils in England found the average bill there was rising by 0.6%.
The Welsh government said taxes were "significantly lower" than in England, despite the rise in 2014/15.
Local government minister Lesley Griffiths said people saved about £230 on their bills in comparison during the current financial year.
Welsh taxpayers will pay £42 a year more from April after the 22 local authorities increased their council tax rate by 4.2% on average. The figure does not include other charges, such as community councils and police precepts.
'Challenging settlement'
A survey of councils in England by the Chartered Institute of Public Finance and Accountancy (CIPFA) found they were planning an average council tax increase, including precepts, of 0.6%.
Shadow local government minister Mr Isherwood said Wales was facing "yet again the highest council tax increases in the UK".
"By the end of February 231 councils in England had already signed up to the council tax freeze in England," he added.
"The Scottish government has announced its seventh year of council tax freezes - and yet Wales is being clobbered yet again."
Mrs Griffiths said: "I do recognise it's challenging, the financial settlement, of course.
'Significantly lower taxes'
"But you know, I can only give them [councils] what I have.
"The Welsh government have had their budget cut so significantly by the UK government - £1.7bn over four years.
"So it's really important that they look at their council tax, try not to be unreasonable, try not to put a burden on the taxpayer and I hope that's what they've done as they've gone through the process."
She added: "In Wales, a band D is 16% lower than England which equates to about £230, so we do have a much lower level of council tax than England.
"Even in Scotland where there's been a council tax freeze, I think since 2007, we are still only on a par with Scotland.
"So we do have significantly lower council taxes in Wales."
Next week BBC Cymru Wales will be taking a closer look at council services and council tax.