MP Jonathan Edwards' 'mistake' over Sam Warburton tweet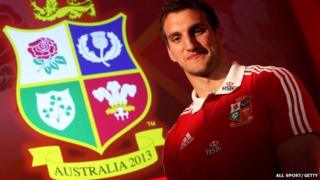 Plaid Cymru's parliamentary leader says its MP Jonathan Edwards accepts his comments about the Wales rugby captain were a mistake.
Mr Edwards questioned how Sam Warburton could captain the Wales rugby team if he considered himself British.
It followed Warburton's remarks that he told people he was British when he led the 2013 Lions tour of Australia.
Elfyn Llwyd MP said he did not agree with his colleague's comments, and Mr Edwards accepted he made a mistake.
Mr Llwyd also said Carmarthen East MP Mr Edwards told him in a phone conversation that he fully supported every member of the Wales rugby squad ahead of the match against England at Twickenham on Sunday
'Great player'
Warburton made his initial comments in response to claims from England players, ahead of Sunday's Six Nation's clash at Twickenham, that they were hated by their Welsh rivals.
The British Lions captain, whose parents are both English, said he had no strong feelings of hatred towards the England team.
"Both my parents were born in England so I can't think that way at all," he said, before adding: "All the lads went on the Lions tour and got on well with the English boys. If someone asked me my nationality I'd say British."
Mr Edwards tweeted: "I really find it difficult to understand how someone who does not consider themselves to be Welsh can be captain of the national rugby side."
He later released a statement striking a more conciliatory tone, and tweeted: "One thing we can all agree on is that Sam is a great player and we're all hoping for a Welsh win on Sunday."