Investigation into GCSE English exam results in Wales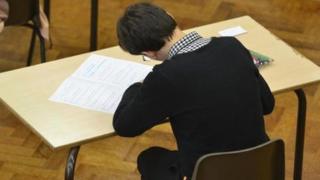 An investigation has been launched over "unexpectedly low" grades for new GCSE English language exams sat in January.
Education Minister Huw Lewis said he wanted his officials to look into it as a "matter of urgency".
The changes to the exam were made following a row over GCSE English results in 2012 which led to thousands of papers being re-graded.
The Welsh government plans the new courses in English, Welsh, double maths and the Welsh baccalaureate next year.
They are designed to boost Wales' disappointing exam results.
The head of Wales' largest exam board WJEC had called for a delay after the first assessments were checked from the exam units completed in January.
On Friday afternoon the education minister announced a "rapid fact-finding exercise" into what had happened.
Mr Lewis said: "A number of factors may have contributed to the decline between January 2013 and January 2014 unit outcomes.
"Welsh government officials will investigate these as a matter of urgency."
The minister said that "comparison is not straightforward because the structure of the qualification has changed". He said the investigation will:
Assess the January 2014 GCSE English language results to establish what the key issues are underlying the results
Identify centres where there has been "significant variance from expected outcomes"
Identify what action needs to be put in place to offer support for future entries
The minister said he had concern about the rising trend in putting pupils in for the "early" exam in January.
Figures showed 37,000 pupils sat the January exam, up by 7,000 on the previous year, whereas schools "entered their most able learners early in the past".
The WJEC said some schools might not have prepared well enough for changes to the English language subject, adding that they struggled with changes to one course this year, so additional changes should be delayed.
The Welsh government said the new qualifications were designed to improve rigour and raise standards and that it remained on track to deliver its reforms.
The Welsh government plans to launch new GCSE courses in September 2015.
'Responsible'
WJEC chief executive Gareth Pierce called for the delay the next round of changes.
He said: "The question is how soon should yet another significant change occur?
"Is 2015 soon, too soon possibly, while we're still working with teachers on current changes?"
Angela Burns, Conservative shadow education minister, said it was alarming how many schools had raised concerns over the results.
She repeated her call for an independent regulator to oversee the exam system.
"I think it comes back down to the fact that the Welsh government is going to try to be the gamekeeper and poacher if you like of this whole situation," she said.
"They want to be responsible for assessing setting the qualifications and then they intend to regulate it, and as you know I have called for - right from the very beginning - we should have an independent regulator who can look at this.
"Because, ultimately, all that matters when our kids go out to get those jobs people can look at their qualifications and say 'Ah yes you have got a GCSE and I know in Wales it's really good quality examinations and I can rely on your skills'."
'Totally devastated'
Shocked parents, pupils and teachers have contacted BBC Wales to express their concern about the GCSE English results.
One parent, Joanne Jones from Cwmbran in Torfaen, said her daughter was "totally devastated" at her results after receiving a D and E grade after "always attaining Bs and Cs".
"There are top-set children in my daughter's school who have obtained a U grade," said the parent.
"I would like the government to explain this."
Another parent wrote: "I need to know my child... is not having her overall marks brought down by a stupid system, and is treated fairly with a chance to have her work remarked and hopefully re-graded if necessary."
Richard Pyke, head of English literacy at St Joseph's School in Port Talbot, said: "The results that we had back were significantly under what we were expecting."
He said staff had anticipated 65 to 70% of pupils would get A* to C grades but it was looking closer to 20 to 25%.
Emergency question
Plaid Cymru's education spokesperson in the assembly Simon Thomas has tabled an emergency question to Education Minister Huw Lewis.
"Plaid Cymru will continue to press for answers until we find out what has happened," said Mr Thomas.
The results are for units in a new qualification, the first GCSE English language course to be made specifically for use in Wales only.
It was introduced in February last year and means the thresholds between grades in the subject would no longer be agreed with England and Northern Ireland.
The WJEC, which sets the exams, said it was responding to requests from the Welsh government to put more emphasis on accuracy.
This now accounts for 50% of the available marks for writing rather than 30%.
Mr Pierce told BBC Wales that the board would be assessing the impact of the changes.
He said: "There are several factors here. The specification changed for November 2012 so this is the first January opportunity there's been.
"There are new demands at the request of the Welsh government - more emphasis on accuracy, more emphasis on being able to compare texts within certain questions.
"We have had a surprisingly large increase in entry, which we would not normally expect in January when things change a lot, unless some of that growth is because schools and colleges felt it was a chance to have a taster of these exams.
"Statistically overall, the fall in terms of grade Cs and grade As is not that different from what we would probably expect with that combination of the two factors," he said.
A row over the English exams previously broke out in 2012 as GCSE results were published for pupils in England, Wales and Northern Ireland.
The then education minister Leighton Andrews claimed pupils in Wales were the victims of an "injustice" after receiving lower grades than expected following a shift in grade boundaries - and demanded papers be re-graded.
As a result, nearly 2,400 students received raised grades.