Wales NHS spending criticised by public accounts committee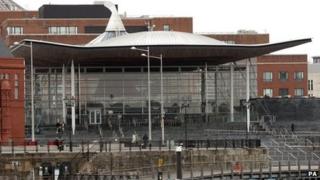 More work needs to be done to help the NHS in Wales to balance its books, said a critical report by a Welsh assembly committee which scrutinises spending.
The Welsh government had made some progress, AMs said, but concerns were raised about a new approach giving managers three years to break even.
They also said an extra £200m in funding had "helped to reinforce poor financial planning in the Welsh NHS".
The Welsh government said it would consider the findings.
The report by the public accounts committee said Wales' health boards - which manage health care locally - faced a £212m deficit this year which came as they coped with increasing pressure while trying to reorganise services.
'Greater transparency'
Chairman Darren Millar, the Conservatives' Shadow Health Minister, said: "People need to have faith that their health services are being delivered effectively, within their means and without drastic measures such as surgery cancellations and closing wards to temporarily balance the books.
"The funding of NHS Wales remains a huge challenge and, while significant efforts have been made by those working with the Welsh health service to make the immediate savings needed to break even, there is a still a great deal more that needs to be done."
The committee has issued 12 recommendations calling on the Welsh government to provide "greater transparency and clarity in budgets and help to ensure that the resources are being allocated appropriately and value for money".
It also wants to see "detailed contingency plans" provided by Wales' seven health boards as the Welsh government plans to create a flexible financial planning system with budgets rolling over three years.
The AMs also wants ministers to:
Hold senior management to account "more rigorously, to ensure transparency for financial decisions".
Provide a fully balanced plan over three years for each health board "showing how budgets will balance across the whole NHS every year"
Mr Millar said: "The committee welcomes some of the progress made by the Welsh government in addressing health finances, particularly with regards to more flexible arrangements, as that is something we have called for ourselves in previous reports.
"However, we have significant concerns about the controls in place to assist health boards in planning more flexibly, and we want to see more stringent accountability of senior managers and greater transparency regarding financial planning.
"Finally, the committee believes that bailing out health boards, most recently to the tune of £200m, simply isn't sustainable."
'Progress made'
In October ministers announced the NHS in Wales was to receive an extra £150m for this financial year.
Last month, it announced an extra £50m would be held in reserve to ensure "sufficient budgetary cover".
Welsh NHS spending will rise from £5.7bn to £5.9bn next year.
Health boards have struggled to balance the books by the end of each financial year despite government help.
Its new NHS Finance Wales Bill starts from April and is designed to give those running hospitals more flexibility and allow "prudent long-term decisions".
A Welsh government spokesperson said: "We thank the committee for their work and will read the report with interest.
"We are encouraged by their opening remarks that much progress has been made.
"In addition, as the new NHS Finance Wales Bill comes into force in April this year, we know that health boards will be able to deliver better integrated service, workforce and financial planning."
Welsh Liberal Democrat AM Aled Roberts said: "This report does not make happy reading, but reflects the evidence that we heard as a committee.
"Wales' NHS remains under an immense amount of pressure and its financial situation remains unsustainable.
"While the move to three-year budgets is welcome, it is vital that the Welsh Labour government properly oversees health boards' financial plans to ensure they are robust."