Cutbacks announced in Welsh-language soap Pobol y Cwm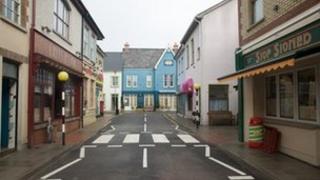 Cuts to the Welsh-language soap Pobol y Cwm have been announced by S4C and the BBC.
The weekly omnibus will be cut, along with one of its five weekday episodes, and it will be taken off air for two weeks a year.
It is part of an S4C plan to make £1m of savings to the soap's costs.
S4C said the decision reflected changing viewing patterns, and the fact that episodes were now available online via Clic and the iPlayer.
Pobol y Cwm is produced for S4C by BBC Cymru Wales. Although the BBC funds most of Pobol y Cwm, S4C has paid for the omnibus.
Sian Gwynedd, head of Welsh language programmes and services at BBC Wales said: "This is obviously disappointing news but we recognise that S4C, just like the BBC, is operating in a very tough financial climate at the moment.
"We're also confident a four-night-a-week Pobol y Cwm will continue to appeal to audiences the length and breadth of Wales.
"Pobol y Cwm is a flagship programme for both the BBC and S4C and we have exciting story lines ahead in this, the 40th year of its illustrious history."
Ms Gwynedd added: "It's too early at this stage to say what the precise impact will be on the production team.
"But our immediate focus is to discuss the implications of the change with production staff, artists, trade unions, the Writers Guild and Equity."
Dafydd Rhys, director of content at S4C, said: "Following the cuts to S4C's budget which continue over coming years, we are still in the process of identifying further reductions in our spending.
'Financial support'
"While we are aware of how much people appreciate the weekly Pobol y Cwm omnibus, it isn't possible to continue to pay the sums we're currently paying.
"However, viewers are able to watch episodes of Pobol y Cwm with subtitles through S4C's online on-demand service, Clic, and the BBC iPlayer.
He added: "There is enormous appreciation within S4C for the work that everyone on the Pobol y Cwm team does and we will continue to support the series both financially and creatively in order to maintain its high production values.
"However, in the current financial climate and with changing viewing patterns, we cannot maintain the current level of financial support."
Mr Rhys also said he was confident that some of the savings would be reinvested to develop drama in the independent production sector.
He said S4C was committed to working with the BBC to develop new drama in the future.