Svengali lands Jonny Owen success and off-screen love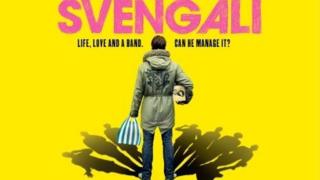 What started as a way to find work has led to success on screen and love off it for Merthyr actor Jonny Owen.
In Svengali, he portrays Valleys' postman Dixie who fulfils his ambition to manage a chart-topping band.
The Universal Studios-backed film co-stars Bafta-winning Vicky McClure as Dixie's wife.
As well as having the success of Svengali which has its UK premiere in Brynmawr, Blaenau Gwent, Owen and his co-star are now an item off screen.
Owen first created the character of Dixie in 2011 for a series of five-minute YouTube sketches.
After the shorts went viral on the web, Universal Studios stepped with an offer for a feature-length version.
'Impossible dream'
Owen said: "We came up with the idea for Dixie online, and while I was away in London looking for TV work I started touting Dixie to broadcasters.
"It suddenly started dawning on me that, in the process of trying to sell this character, I was in fact becoming him, chasing the seemingly impossible dream.
"And for all those who don't believe in happy endings, just look what's happened with Svengali.
"We've gone from a niche internet thing to a feature film with a UK release."
Owen has previously starred in My Family, Shameless, and Murphy's Law, alongside James Nesbitt.
He also enjoyed success as the bass-player in 1990s Brit-Pop band The Pocket Devils.
Soulmate
His co-star Vicky McClure won the 2011 Bafta TV Best Actress award for her portrayal of Lol in Channel 4 drama This Is England 86.
Svengali tells the story of how music fanatic Dixie's dreams of discovering a great band come true when one day he finds unsigned The Premature Congratulations on YouTube.
He hunts them down and offers them his management services.
Putting their demo on a cassette, Dixie heads out onto the streets of London.
His partner and his sanity through it all is his soulmate Michelle, played by McClure.
But the more successful The Prems get, the greater the chances are of Dixie losing them.
He has to decide what are his real priorities in life - his love of music or his love for Michelle.
Here too Owen says the film has mirrored real life.
He said: "I was successful beyond my wildest dreams attracting the cast, with the likes of Martin Freeman, and even a cameo from Alan McGee, of Creation Records, who gave Oasis their break.
"But I didn't know how lucky I'd be when I sent the script to Vicky McClure. Not only is she fantastic as Michelle, but in the course of making the film we've also grown close and ended up in a relationship together just like Dixie and Michelle."
While the Dixie sketches for the internet were filmed in London, for the feature-length Svengali Owen returned to Wales.
Drawing on his own experience has been an important part of the film's humour.
"Dixie is from Mountain Ash and I'm from Merthyr, so we share a sense of humour I suppose, and the only way I could get that across was by having scenes set in Wales," he said.
"As much as the razzamatazz of the music industry is based on my time in Brit Pop bands, the down-to-earth working-class humour is very much part of my upbringing."