Three salmon hatcheries in north and mid Wales under threat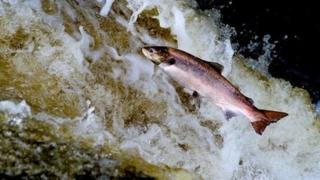 Three salmon hatcheries could close in mid and north Wales under plans by Natural Resources Wales (NRW) to stop stocking rivers.
Centres near Corwen, Dolgellau and Llanidloes could shut, while a fourth near Brecon could be converted into a research centre.
It follows a review that found the current policy of restocking rivers with salmon was ineffective.
Money from the sale of hatcheries could be used to improve fisheries, NRW said.
Salmon stocking was initially carried out to restore populations damaged through the development of reservoirs and weirs which restricted their access to breeding grounds.
But the environment body said studies showed that hatchery-reared young salmon had a much lower survival rate than young wild fish.
In some cases, introducing them into a river could potentially harm existing wild salmon populations, it said.
As a result, the review recommends NRW brings salmon stocking to an end and shuts fisheries in Maerdy near Corwen, Mawddach near Dolgellau and Clywedig near Llanidloes.
Another hatchery in Cynrig, near Brecon, could be converted into a freshwater and fisheries research centre.
'Think creatively'
If agreed, money from their sale could be used to improve stocked fisheries and habitats or to open up new migratory routes.
Ceri Davies, from NRW, said the proposed closures were intended to make sure its resources were being used effectively to help fish stocks.
"We've done a lot over the years to improve water quality and return salmon to our rivers and we want to make sure that work continues to sustain a healthy salmon population in Wales," he said.
"As a new organisation, we have an opportunity to think creatively about the best way to support fish stocks in the face of climate change so our rivers can continue to provide benefits to the wildlife, people and economy of Wales," he added.