MMR first dose uptake in Wales hits new highs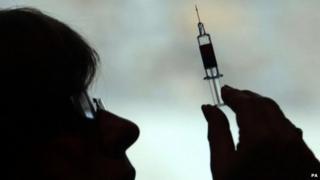 The number of two-year-olds in Wales who have received the MMR vaccination has reached new highs, according to the latest figures.
From October-December 2013, 97% of children in Wales were given the first dose before their second birthday.
The uptake of the first dose, Public Health Wales (PHW) said, was 99% in some areas.
But uptake of the second dose continues to fall short of the 95% target, meaning future outbreaks are possible.
The second dose is needed, from the age of five, for maximum protection. PHW said uptake in Wales stood at 93%.
The figures appear in the Cover (Cover of vaccination evaluated rapidly) report , published by the health protection division of PHW.
Dr Richard Roberts, head of the Vaccine Preventable Disease programme, said: "The news that MMR uptake in two-year-old children continues to be at high levels is excellent.
"This is the fourth consecutive quarter that uptake in this groups has exceeded 95% and it shows that parents understand the potential severity of diseases like measles, mumps and rubella and the need to protect their children."
But he urged parents to make sure their children receive the second dose.
"I cannot stress enough that measles, mumps and rubella are all potentially serious infections that can leave children with permanent health problems and can even cause death," he said.
Between November 2012 and July 2013, an outbreak of measles centred in the Swansea area resulted in more than 1,200 reported cases of measles, 88 people needing hospital treatment and one death.
Gareth Colfer-Williams, 25, from Swansea, died last year from pneumonia after contracting measles during the outbreak.
He was found dead on his sofa in his flat on 18 April, days after seeing GPs complaining of a rash all over his body.
The age group hardest hit during the outbreak was children and young people aged 10 to 18, and PHW has since warned that more than 30,000 in that group have no record of receiving a complete two dose course of MMR vaccinations.
Dr Roberts added: "Excellent vaccine uptake in our younger children means we may not see outbreaks of this scale in 10 years' time, but while older children are unprotected, there is every potential for further outbreaks in their age group."