'No progress' in top jobs for women in Wales, report says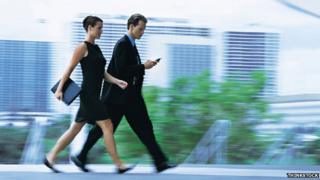 Almost no progress has been made in getting women into positions of power and influence in Wales over the last 10 years, it has been claimed.
The Equality and Human Rights Commission has criticised a "lost decade" which it claims has resulted in "fewer women at the top than in 2004".
In a new report, it claims a survey of 100 top businesses operating in Wales found just 2% are headed by women.
It comes as assembly members prepare to debate challenges faced by women.
The debate, on Tuesday, is part of a series of events this week to mark International Women's Day on 8 March.
The commission's Who Runs Wales? 2014 report looks at sectors including politics, local government, health and the private sector.
It says:
The national assembly has 58% men and 42% women - compared to a 50/50 split in 2003
Female council leaders in Wales have fallen from 14% a decade ago, to 9%
27% of Wales' councillors are women
There are no female chief constables or police and crime commissioners in Wales
'Failure'
Ann Beynon, commissioner for Wales, said: "Our report paints a stark picture of Wales. One that shows women are largely missing from the decision-making tables across most areas of our daily life.
"When we look back over a decade of gathering these statistics, our findings show that in several sectors there are fewer women at the top than in 2004.
"This represents a lost decade in attempts to get more women into senior positions in Wales.
"These figures highlight a wider failure to ensure our corridors of power reflect the diversity of Wales and include people from under-represented groups, such as ethnic minority and disabled people.
"Good intentions are not enough. This year's report is a wake-up call. It is time to adopt strong measures to speed up the pace of change."
Last year, the assembly's presiding officer, Dame Rosemary Butler, claimed women were not coming forward in many walks of public life across Wales.
She wrote to the four main political leaders, saying the assembly's make-up must reflect the population for it to be effective.
At the time, she said: "When you think that women are over 50% of the population, that's a huge resource to be wasted and if we are to be effective as an assembly here for example, we do need to reflect the make up of the population."