Dylan Thomas's Under Milk Wood back on stage for tour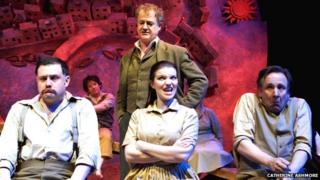 Sixty years since it was first broadcast, a production of Dylan Thomas's Under Milk Wood is on the stage and about to tour the world.
His play for voices was first broadcast on BBC radio in January 1954, just a few months after the poet's death in New York.
In the years since, it has been reprised on the radio and been the subject of TV, film and stage adaptations.
The play tells the story of a day in the life of the inhabitants of Llareggub, a small Welsh town said to be styled on Laugharne and New Quay in west Wales, where Thomas lived.
The new Clwyd Theatr Cymru production will tour towns and cities around Britain and the United States, before returning to the UK for a planned run in London's West End.
The role of First Voice, immortalised by Richard Burton, is played by the Game of Thrones actor Owen Teale. Having been raised near Thomas's birthplace in Swansea, he feels a close connection with the play and its author.
"I guess because I was born very nearby in the Uplands of Swansea, I'd grown up with it being part of my culture. Something that defined me and the people around me was the myth of this pop star, rock legend lifestyle of Dylan Thomas," he said.
"And so for me it's about going home, it's very much about homecoming and to bring that to the First Voice."
For its director, Terry Hands, the production has allowed him to return to a work that fascinates him.
"I've always adored it, we're all in love with it. But for me it is a poem, it's extraordinary poetry, but it is that amazing thing which I call Welsh-English," he said.
"He writes in a way that the English don't, in the same way that James Joyce with Ulysees writes Irish-English. And if James Joyce had learned Gaelic we wouldn't have had Ulysees, and if Dylan Thomas had learned Welsh we would not have had Under Milk Wood."
Mr Hands said Thomas's use of words was unique.
"It is a genius, and it is a language you can only hear in Wales. And I'm looking forward to taking it around the world," he said.
One who fondly remembers the first, initial reaction to Under Milk Wood is the actress Gwenyth Petty. In 1954 she played the role of Lily Smalls in the first production of the play, which featured Richard Burton as First Voice.
"I knew it was special, but not as special as it turned out to be," she recalled.
The production was broadcast live from a BBC studio in London, the near-flawless performance largely the result of tireless work by the producer Douglas Cleverdon.
"It was absolutely the best (production), nothing has touched it since. It was fresh, but I have to give credit to the producer Douglas Cleverdon who knew every word of it, inside out and back to front," she said.
"And contrary to what I've read in the press, it was he, and only he, who got (the writing of Under Milk Wood) finished. It was he who actually locked Dylan Thomas in the library of Broadcasting House overnight to get him to finish it."
Gwenyth Petty was born and brought up in Maesteg in the Llynfi Valley, and says it is the hint of communities like her childhood home which made Under Milk Wood such a successful production.
"I think because I was from a small Welsh town I was terribly nervous when Douglas Cleverdon asked me to read (the part), because this was for the Third Programme, and the Third Programme was the top," she said.
"But having been brought up in a small Welsh town, I looked at it and I thought, this is about a small Welsh town, we had characters, and this was full of characters."
As the production prepares to head to America, the latest acclaimed actor to play First Voice, Owen Teale, is confident that the themes of small Welsh communities will translate for an American audience.
"It's very much about a very specific small community, and people, and it's very honestly written about that. But because we are all humans, then surely it should translate that everyone feels the same thing," he said.
"And I think the piece does that - it may be at first a little strange when we go to America for people to actually understand what we are saying, but I think they'll get it. I think it's got that universality that has made it the classic that it is."