IRA victim's family 'devastated' over collapse of trial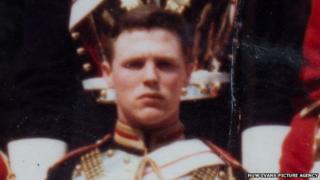 The family of a Welsh soldier killed in an IRA attack said they would "never get justice" after a legal blunder meant the alleged bomber walked free.
L/Cpl Jeffrey Young, 19, was killed in the 1982 Hyde Park blast, leaving a widow and two young daughters.
The trial of John Downey, 62, for the bombing collapsed as he was wrongly told he was not wanted by police.
A judge ruled the official assurance meant Downey - who had denied murder - could not be prosecuted.
Jeffrey's older brother Vincent Young, 55, said: "We are devastated - I really thought we were going to get justice this time.
"But there is no appeal process - no-one is ever going to pay for what happened to my brother."
Father-of-six Mr Young had a call from the Metropolitan Police to say Downey's trial had been stopped because he had been wrongly sent a letter in 2007 saying he would not be prosecuted.
Mr Young, of Bridgend, said: "I just felt gutted - I had said from the beginning that he would get off but the rest of my family thought this was it.
"But this goes back to the Good Friday Agreement and if you ask me the (UK) government is still scared of the IRA.
"I don't believe the Metropolitan Police knew of the existence of this letter - I'm sure they didn't.
"But why has it suddenly turned up now?"
L/Cpl Young, from Tonyrefail, was one of four Household Cavalry killed in the Hyde Park explosion on 20 July 1982.
Mr Downey, 62, who was convicted of IRA membership in the 1970s, had denied murdering the soldiers and conspiring to cause an explosion.
He became Scotland Yard's prime suspect for the Hyde Park attack - but he was never extradited from the Republic of Ireland. He was described in court as a committed supporter of the Northern Ireland peace process.
In May 2013 he was arrested at Gatwick Airport while en route to Greece and charged with the murders and bomb attack. Mr Downey had travelled to the UK on four previous occasions since 2010.
'No warrants'
But over the course of legal argument, he asked the Old Bailey to halt the prosecution - saying he had received a clear written assurance from the government that he would not be tried.
He cited an official letter he had received in 2007 saying: "There are no warrants in existence, nor are you wanted in Northern Ireland for arrest, questioning or charging by police. The Police Service of Northern Ireland are not aware of any interest in you by any other police force."
Computer technician Mr Young said: "It all comes down to a mistake - that letter should never have gone out.
"The judge was left with no option but to stop the proceedings. But where does that leave us?
"Justice has gone out of the window."
Police Service of Northern Ireland Chief Constable Matt Baggott said the PSNI accepted the court's decision and full responsibility for the failures which resulted in this outcome.
He said the matter would be referred to the Police Ombudsman for Northern Ireland.
He said: "I wish to apologise to the families of the victims and survivors of the Hyde Park atrocity.
"I deeply regret these failings which should not have happened. We are currently carrying out a check of these cases to ensure the accuracy of information processed by the PSNI."
'No life'
L/Cpl Young was from a military family and his killing 32 years ago did not stop the tradition.
Vincent Young's son is an RAF policeman and his nephew - named Jeffrey after his uncle - has completed three tours of duty with the Army in Afghanistan.
Mr Young's wife Lynn, 53, said: "Downey can go home now and get on with his life.
"Jeff was buried on his 20th birthday - he had no life."