Surgeons wait for answers on deaths before heart surgery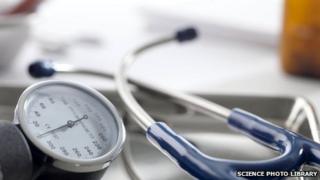 Surgeons in Wales say they are still looking for answers over what is being done about heart patients dying while waiting for operations.
The Royal College of Surgeons (RCS) wrote to Health Inspectorate Wales (HIW) in July last year warning patient safety was being put at risk.
The RCS was told at the time the issues raised were being addressed but it has not had an update since so has written again.
HIW says it will respond in due course.
The University Hospital of Wales (UHW) in Cardiff and Morriston Hospital in Swansea are the two centres in Wales where heart patients who need specialist treatment and cardiac surgery are referred.
But they are struggling to cope with the demands on their services.
In August 2013, correspondence between the RCS and HIW revealed that 152 patients had died in the past five years while waiting for heart surgery in Cardiff or Swansea.
Just a few weeks earlier, Cynon Valley MP Ann Clwyd called for an inquiry over deaths at UHW claiming it was the Welsh equivalent of the Stafford Hospital scandal.
And then in September, Powys GP Dr James Wrench, who leads the South Wales Cardiac Network, repeated the claim that patients were dying waiting for heart surgery. He said those who needed operations were supposed to be treated within 26 weeks.
Now the RCS is still looking for answers.
It said: "The RCS wrote to Healthcare Inspectorate Wales to ask for an update on whether our concerns regarding cardiac surgery waiting times in Wales have been addressed.
"We are currently waiting for the publication of two associated reports: The Welsh Health Specialised Services Committee's report on the mortality of patients waiting for elective surgery in south Wales, along with a separate report from the Cardiac Surgery Working Group of the Cardiac Services Review for Wales."
An HIW spokesperson said the watchdog had received the letter from the RCS and would be responding in due course.
"In the meantime we have met with the RCS, continue to monitor the situation and will be considering the reports once they are available," said a spokesperson.
Unnecessary deaths
Ms Clwyd told BBC Radio Wales there were hospitals in Wales that should be in "special measures".
"There is great cause for concern because, not only did they say patients were dying on waiting lists, it also said patients waiting for surgery were actually deteriorating," she said.
"I've been concerned for some time about mortality rates - six Welsh hospitals come up time after time with high mortality rates.
"The mortality rates are a smoke signal that something is wrong at that particular hospital and should be looked at in greater detail."
The health service is devolved in Wales and run by the Welsh government.
A spokesperson for the Welsh government said: "The situation on cardiac waiting times is being actively managed by the NHS and Welsh government and steps are being taken to improve services for patients."
The concerns over heart patients follows a row in February over whether an inquiry is needed into death rates at Welsh hospitals in general.
England's medical director Sir Bruce Keogh said in an email to his Welsh counterpart Dr Chris Jones that data on death rates in six Welsh hospitals was worrying but not adequate to "form a view".
The statistics are part of a drive to make the NHS more transparent in the wake of the Stafford Hospital scandal.
Neglect and abuse at Stafford Hospital was said to have contributed to hundreds of unnecessary deaths between 2005 and 2008 and prompted a public inquiry.
But the Welsh government has already ruled out an inquiry, and that position has been backed by the Royal College of Nurses.