Microsoft translation system to help more use Welsh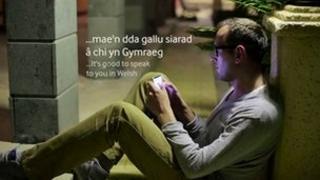 A translation system aimed at helping more people communicate using the Welsh language has been launched.
It has been developed by the Welsh assembly and Microsoft, with tools and applications that will recognise and translate other languages into Welsh.
It works online, on mobile devices and through Microsoft programs like Word.
While it is not a 100% accurate translation service, it aims to help more people use Welsh.
Welsh assembly officials said the system would allow staff and assembly members to work in the language of their choice and would help it provide "exemplary" bilingual services.
It could also be used as a learning tool for those wanting to improve their Welsh, they said.
"This is a great day for the Welsh language," said the AM Rhodri Glyn Thomas, who is the assembly's commissioner responsible for the Welsh language.
"It is a great step forward in bilingual working that we have been able to help with the development of such a powerful translation system."
While the new software will not replace professional translators for official documents, assembly officials said they hoped it would help save time and some translation costs.
Microsoft Translator already offers services for a number of other languages including Urdu, Malay and Catalan, as well as more widely spoken languages such as Chinese, Spanish and Russian.