Conwy council agrees 5% council tax rise in budget plans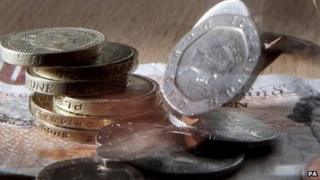 Councillors in Conwy have approved a 5% rise in council tax as part of their budget setting plans for 2014/15.
Local authorities say they are feeling the squeeze after an average 3.5% drop in funding from the Welsh government.
Savings plans across Wales include cutting services such as leisure centres, play centres and theatres.
In a report last year, Conwy council said it faced an "extremely challenging financial landscape".
It said it faced a 3.6% funding cut in its next full-year finances and even with the 5% council tax rise, would still face a £5m shortfall each year until 2017.
The rise means Band D homeowners in the county will pay £964.89 a year - an extra 88p a week - from 1 April.
Dave Cowans, Conwy's cabinet member for finance, said the budget setting challenge was not over yet, with further financial struggles expected in the next few years.
'Difficult decisions'
"We will need to take difficult decisions and deliver more savings," he said.
"For 2015/16, we're likely to face a shortfall of £12.795m. Planning for that needs to start tomorrow, not next year."
The Welsh Local Government Association said it expected at least four local authorities in Wales to increase council tax levels by 5%.
On Monday, Swansea council voted through a 5% council tax rise, while it imposes cuts to save £26m.
Bridgend council agreed a council tax rise of 4.98% at a meeting on Wednesday.
Ceredigion council backed a tax increase of 4.41% on Thursday taking the council tax bill for an average Band D property to £1,258.61.