House builders blame red tape for 12% drop in Wales during 2013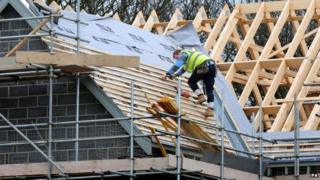 Red tape has been blamed for Wales being the only part of the UK to see a drop in new houses registered.
The overall UK figure increased by 28% to 133,670 in 2013 but Wales saw a 12% fall from 4,065 in 2012 to 3,577.
House builders blamed over-regulation in Wales, a poor planning system and the delayed implementation of the Help to Buy scheme for borrowers.
The Welsh government said its policies were supporting increases in the construction sector and creating jobs.
The UK-wide rise was fuelled by growth in new registrations with the National House Building Council (NHBC) of 30% in England, 21% in Scotland and 16% in Northern Ireland.
Every English region also saw a double digit increase in house building in 2013.
One of the biggest house builders, Persimmon Homes, said in September that it would stop new home construction in parts of the south Wales valleys.
It blamed the decision on low sales prices and Welsh government red tape, which it claimed added £3,000 to the cost of building a house compared with many parts of England.
Responding to the latest drop in housing registrations in Wales, Glyn Mabey, the regional chairman for Persimmon in Wales, blamed planning rules and the costs of regulation.
"What the fall in new registrations does highlight is the huge problem of getting planning applications approved in a timely manner and then excessive pre-start conditions which are delaying the physical build work actually commencing on site," he told BBC Wales.
The company is increasing the number of houses it is building this year, but he said it had to overcome the "hindrance of a negative planning system" that didn't encourage growth or help create jobs.
Mr Mabey said he had been encouraged in his recent dealings with the Welsh government over the issue of regulations.
'Perplexing'
But he added: "Whilst building regulation costs in Wales continue to impose a higher cost on new housing in Wales it should come as no surprise that growth is lower and our investment decisions are at a disadvantage to England.
"What is really perplexing is that the Welsh assembly's own consultants, the Building Research Establishment, advised that sprinklers on all new housing was not viable from cost benefit analysis but this was ignored."
Plans to introduce sprinklers are set to go ahead after a vote in the assembly but the Welsh government has taken action in light of industry concerns over other regulations.
Energy efficiency targets for all new homes built in Wales have been cut drastically by ministers.
Building regulations will require an 8% cut in carbon emissions from this year, rather than the previously planned 40%.
The Welsh government said that would result in a £4,000 saving on the cost of building a house.
It told BBC Wales that the construction sector generally is expected to continue to grow leading to more jobs.
Delayed start
Ministers have also received support from the house building industry for the introduction of Help to Buy Wales, which came into force in January to help borrowers get access to mortgages with lower deposits.
It had been targeted for introduction in 2013 but was delayed.
"The scheme has been welcomed by house builders and in the next two years it will support the purchase of around 5,000 new homes across Wales", a Welsh government spokesperson said.
"Building Wales out of the worst economic recession seen for generations is this government's top priority.
"Our actions are clearly working - with encouraging indications of the construction industry in Wales outperforming most parts of the UK."
Smaller builders also point to planning as a problem with many arguing that councils could release land in smaller chunks rather than on a scale that only bigger volume builders can buy.
Daniel Ball from LivEco, which is building sustainable properties in Cardiff to high specification, said the larger companies could do more to support environmentally friendly developments.