North Wales crime cash given back to communities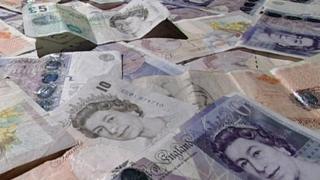 Cash seized from criminals is being handed to community projects across north Wales.
In total, 12 groups including scouts, guides, churches and football clubs will share nearly £38,000 between them.
The grants from North Wales Police and Crime Commissioner Winston Roddick are partly funded by money seized under proceeds of crime laws in north Wales.
Two projects in each north Wales county were selected following a public vote, with grants of up to £3,500 available.
The fund was launched in autumn last year, with community groups asked to bid for cash to help cut crime and anti-social behaviour in their area.
Schemes include an allotment project in Holyhead on Anglesey and a scout and guide group at Saltney Ferry in Flintshire.
"It is only right that money recovered from those who commit crimes against people in north Wales should go back to benefit local communities," said Mr Roddick.
Online voting
"This small grants initiative goes a step further by allowing the public to decide on where and how it should be spent."
The grants were awarded after 73 applications were whittled down in a public online vote, before a final decision on the winners was made by a panel involving North Wales Police and council and community representatives.
"I would like to congratulate the groups on their success in securing funding for their initiatives," said Assistant Chief Constable Simon Shaw.
"The worthy recipients cover a wide-range of interesting and exciting projects that will help enhance local communities.
"What makes this even more worthwhile is that they are being funded by money we've taken from criminals.
"I look forward to hearing about the development of the winning projects."