Rugby stars back campaign against child sexual exploitation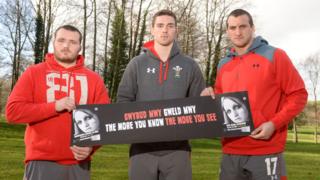 Wales rugby stars are backing a campaign to raise awareness of child sexual exploitation.
Squad members worked with North Wales Police to make two films, in English and Welsh, to help people to read the signs of when something is wrong.
Many young people who are abused do not realise it and as a result do not call for help, police say.
The films, unveiled on Monday, will be shown at the Wales v France Six Nations game on Friday.
They are part of "The More You Know" campaign across all four Welsh police force areas.
Captain Sam Warburton, Rhys Priestland, George North and Mike Phillips joined other squad members to help explain what sexual exploitation is and how it puts young victims at risk of damage to their physical, emotional and psychological health.
Warning signs
Warburton says in the film: "There's no place in our society for child sexual exploitation.
"It can take many forms. Maybe a seemingly agreed relationship with an older boyfriend.
"Do you know what to look for?"
Police said while there was no stereotypical victim of exploitation, there were warning signs in children's behaviour that may indicate something was wrong.
Det Supt John Hanson said the films were part of the four Welsh forces' bid to tackle child sexual abuse, help victims and bring offenders to justice.
"If people know what to look out for they can take steps to help a child that is being exploited," he said.
"People young and old listen to their sporting icons and we are very grateful to the WRU for agreeing to help us deliver these important messages."