Porn case against teacher Robert Adams is 'not the strongest,' tribunal hears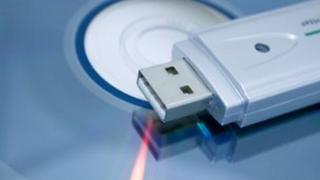 The case against a primary school teacher accused of accidentally transferring his porn collection on to a school network "is not the strongest", a tribunal has heard.
Robert Adams, 52, was trying to fix an IT problem with his own memory stick when he allegedly transferred images.
He was suspended from Deighton Primary School in Tredegar, Blaenau Gwent.
The General Teaching Council for Wales (GTCW) panel, which sat in Cardiff, will rule on the case in April.
The hearing was told Mr Adams was suspended from his job after several nude photos of women were found on a classroom computer.
They were discovered by a nursery nurse hours after Mr Adams, the school's IT coordinator, tried to fix an IT problem using one of his own memory sticks.
He had used a USB memory stick to pull files off the school's server after it crashed, before re-uploading them two days later.
However, it is alleged he forgot there was a porn folder called Glam on the device, and unwittingly uploaded it.
As well as prompting an internal investigation, police were also called and arrested Mr Adams, but he was released without charge.
The GTCW is conducting professional conduct proceedings and if the teaching panel finds in favour of the allegation that Mr Adams introduced pornographic images on to the school computer network, it could strike him off the teaching register.
David Browne, representing the registrant, said: "It is not possible with any degree of certainty [to establish] where the images came from.
"This is a difficult case and it will not be easy to get down into areas where Mr Adams cannot give any explanation."
The panel heard that in autumn 2009 all schools in the Blaenau Gwent area suffered IT problems and risked losing scores of pupils' work and lesson plans.
Mr Adams "went out of his way" to try to save the work from being lost and downloaded the work onto a USB memory stick.
The panel heard Mr Adams had accepted the memory stick was his and no-one else had access to the computer while he was uploading the material.
The case against him argues Mr Adams was an experienced teacher, having qualified in 1985, and should have known the risks of bringing personal USB devices into school.
However, Mr Browne said no criminal proceedings had been taken against his client and said the case against him was described as "not the strongest".
Mr Adams had been a teacher at Deighton Infants and Junior School for more than 20 years.
The hearing had been expected to finish on Wednesday.
However, the panel said it would have to reconvene proceedings due to the amount of technical evidence which needed to be examined.
A decision on whether the sole allegation is proven, and whether that amounts to unacceptable professional conduct, will be made at a hearing in April.