Historic Admiral Lord Nelson letter up for auction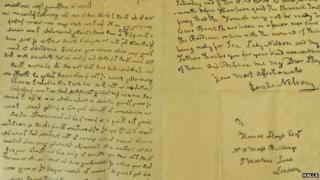 A rare letter from Admiral Lord Nelson to a descendant of the famous Lloyds family is to be auctioned.
The letter was written in an apparently slightly shaky left hand script shortly after Lord Nelson lost his right arm in the Battle of Santa Cruz de Tenerife.
It dates back to 1798 and, as letters written by Nelson are so rare, has been valued at £4,000.
The letter will be auctioned in Shrewsbury at the end of February.
Written in black ink on tracing paper, it was sent by Lord Nelson to Thomas Lloyd - a descendant of the Lloyds family from Welshpool.
Aaron Dean, books specialist of Halls' auctioneers of Shrewsbury, said the letter gave a fascinating glimpse of Lord Nelson's state of mind between the Battle of Santa Cruz de Tenerife and his next command in the build-up to the Battle of Trafalgar in 1805.
"This is a great part of British history," said Mr Dean. "The letter was written in Nelson's left hand while he was recuperating in Bath from losing his arm. The letter reveals that he is pushing for his next command with the Royal Navy.
"His persistence paid off and he was given command of the 74-gun HMS Vanguard."
Lord Nelson returned to service and fought in several more battles until he was shot and killed in the Battle of Trafalgar while leading the Royal Navy to his most famous victory.
The 1798 letter reads: "My Dear Lloyd. There is nothing you can desire me to do that I shall not have the greatest pleasure in complying with for I am sure you can never possess a thought that is not most strictly honourable.
"Lady Nelson and my father thank you for your kind remembrance of them and believe me my Dear Lloyd, your most affectionate, Horatio Nelson."
The letter is part of a consignment from descendants of the famous Lloyd family of Dolobran, Pontrobert, near Welshpool. They were Quakers, iron merchants and founder partners of Taylors and Lloyds bank, now Lloyds TSB.
Welsh links
Nelson also has links to Wales as Monmouth provided the backdrop to his illicit romance with his aristocratic mistress. He visited nearby Kymin naval college with his lover Lady Emma Hamilton and her husband Sir William.
The controversial trio, who in 1798 fled an expected French invasion of Naples when it was thought the salacious affair that became the talk of Victorian Britain began, took tea in the grounds of the town garden.
After Nelson separated from his wife Frances, Lady Hamilton gave birth to his daughter Horatia in 1801. Though many rich men had mistresses, the seaman was the first high-profile figure of the age to leave his wife and the pair were shunned by friends and colleagues.
Nelson is said to have left a great impression on Monmouth, dining in style at the old coaching inn The Beaufort, where he made a patriotic speech and praised the locals' loyalty to the King.
Last year a letter written by Lord Nelson sold at auction for £54,500. It had been valued at £11,000.