Abertawe Bro Morgannwg care concern advice sessions offered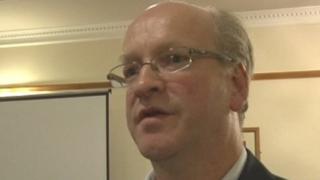 A health board hit by allegations of poor care has invited patients and relatives to put their views directly to senior figures at special meetings.
Abertawe Bro Morgannwg will hold clinics where people can talk to senior medics and managers about the problems they have faced and will be given advice on complaints procedures.
It follows a public meeting last week where about 100 people called for ABM's chief executive Paul Roberts to resign.
But he has refused to step down.
Instead, he said he would be working with patients to improve care standards and hopes these clinics will be an opportunity to do that.
A support group has been set up by families whose relatives have experienced poor care at ABM hospitals, which include two in Swansea, one in Bridgend and one in Neath Port Talbot.
"We are aware that we need to improve the way we learn from feedback - good and bad - and that includes changes to our complaints system, which are starting," said Mr Roberts.
"However, we want to introduce better communication with patients and families immediately.
"We are introducing an open door to patients, relatives and carers who have serious concerns about care and who feel that they have not yet had the answers they need.
"We will listen and learn from them, and we hope that some will also agree to work with us to implement changes.
"We have found that this collaborative approach is the best way forward as it puts the patient and family's perspectives at the heart of improvements."
Mr Roberts said the new clinics will also allow people's concerns to be treated sensitively and offer face-to-face discussions with some of the health board's most senior staff and board members.
"Public meetings are one way of raising concerns, but they also have limitations as we are not able to hold individual discussions with people or engage with them in a constructive way," he added.
"Some patients and relatives may not be comfortable with talking about private or sensitive issues in a public arena; and it is vital they have a chance to be heard."
'Cynical ploy'
Gareth Williams, one member of the recently-formed ABM Victims Support Group, has been calling for a public inquiry following the alleged neglect of his mother, Lilian Williams, at the Princess of Wales and Neath Port Talbot hospitals before her death in 2012.
He said: "This is yet another cynical ploy by the management to undermine our victims group.
"We don't need these clinics - we need a health board in special measures with new management."
The health board said the vast majority of care was of high standard and that in 2012/13 only 0.15% of the hospital care it provided resulted in a complaint.
A spokesperson added: "We are aware, however, that not all people will formally complain and we are introducing better ways of capturing feedback.
"We have already introduced the Friends and Family feedback system onto wards at the Princess of Wales Hospital.
"It is a quick and simply way for patients and families to fill in a brief form and let us know what they think - would they recommend this ward?
"So far, of the responses we've had, well over 90 per cent said they would.
"In October, we became the first health board in Wales to introduce free public WiFi in our hospitals so patients and visitors could access the internet on their smartphones and tablets.
"We are now taking that a step further and will shortly be introducing a WiFi feedback system so they can also use their phones to let us know about issues while they are still in hospital.
"Technology aside, we are putting much more emphasis on patients' own stories; sharing their experiences with staff as part of ongoing training centred on improving care."