Rail service from Swansea to Heathrow announced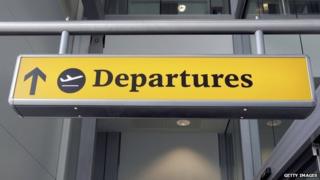 Plans for a direct train service from Swansea to Heathrow Airport have been announced by Network Rail.
Currently passengers have to change at Reading or London Paddington in order to reach Heathrow.
The new initiative would see journey times from Swansea to Heathrow take three hours and 6 minutes nearly an hour less than the current option.
If the £500m plans are approved, it is expected the new service would be in operation by 2021.
Funding has already been announced by the UK government.
"Our plans for a new rail link to Heathrow from the west will dramatically improving rail links, reduce congestion on existing rail services and provide a boost to the local economy," said Patrick Hallgate, route managing director at Network Rail.
"It's important that we take the opportunity to discuss these plans so we can ensure the investment made in a bigger, better railway delivers maximum benefit."
The new plan would see a normal service that passengers get for the Swansea to London Paddington route up until Reading.
Public consultation
It would then turn off at a newly created junction created between Langley and Iver stations and go through a 5km tunnel to reach Heathrow Terminal 5.
Network Rail will hold a public consultation later this year and it is hoped work could start at the end of 2016 with the route completed in 2021.
Colin Matthews, Heathrow's chief executive, said: "Network Rail's plans will drive economic growth through improved access to overseas markets. Heathrow is already in a better location than any other UK airport.
"Western Rail access will build on that strength, helping to make sure that the whole of the UK benefits from the growth opportunities global connectivity brings."
Plans for a direct route from south Wales to Heathrow have been discussed for some time.
And last year the rail investment was part of an announcement on future plans for airports by then Transport Secretary Justine Greening.
The news of Network Rail's Heathrow airport link comes two years after it was confirmed the line between Swansea and London would be electrified.
That scheme, costing more than £1bn is due to be completed by 2017 and will cut journey times by up to 30 minutes.
A Welsh government spokesperson said: "Proposals to speed up the links between Wales and Heathrow Airport are to be welcomed and would be particularly important for the business community."