FE colleges warn courses will go as budgets cut by Welsh government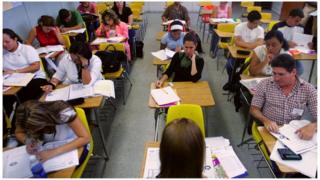 Further education courses face closure due to financial cuts imposed by the Welsh government, colleges have warned.
They say they will lose £7.5m in funding over the next two years, which works out as a 1.6% budget cut.
Last year, unions said cuts could damage life-long learning and warned of a "devastating" impact.
The Welsh government has promised to protect the funding for all 16-18 year olds studying in colleges.
As a result, some colleges with a high proportion of younger students have seen their budgets remain at similar levels.
But those with a higher proportion of adult learners will see a drastic cut to their budget.
John Graystone, chief executive of Colegau Cymru, the umbrella body for the further education sector, said it would be unreasonable to expect colleges to deliver the same amount of learning next year "given two funding cuts in a row plus significant cost increases".
"As a nation, we cannot afford to reduce the investment in skills. We must support a growing economy," he said.
"We must also maintain and strive to further improve quality across the whole of the education sector in Wales, and the further education is a key part of that.
"But the numbers of learners will inevitably reduce as colleges take a hard look at the number of courses they provide.
"The extent of the reductions will depend on the targets that the Welsh government sets for the sector."
He said colleges would do their utmost to manage their budgets and protect learning.
In 2012 there were almost 250,000 learners at FE colleges in Wales, with three-quarters over the age of 19 and many studying part-time.
Colleges have agreed to a 1% increase to all staff salaries, at a cost of £6m a year.
Colegau Cymru is meeting the Welsh government next week to discuss what it will be able to offer students.
The organisation told BBC Wales that cuts to courses were unavoidable.