Welsh Baccalaureate: Language module drop criticised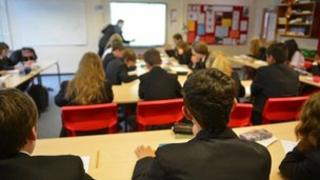 Plans to take a language module out of the Welsh Baccalaureate have been criticised by a group of MPs and peers.
In a letter to Education Minister Huw Lewis, seen by BBC Wales, they note their "dismay" and say it is "surely a retrograde step".
They are concerned "participation in the learning of modern foreign languages in Wales is lower than in any other part of the UK".
The Welsh government said it was strengthening the Welsh Bacc.
The letter was sent by Baroness Coussins, chair of the all-party parliamentary group on modern languages, and says it is "surely a retrograde step, which flies in the face of compelling evidence about the need to improve the UK's capacity in languages".
It comes as Mr Lewis faces criticism from Conservatives in Cardiff Bay for cutting funding to an organisation that encourages school children to learn a language.
BBC Wales understands that Cardiff-based Cilt Cymru will have its government funding reduced from around £600,000 to around £200,000 in the financial year starting in April.
Welsh government sources said they were not critical of Cilt's staff, but that the "stark data" on the number of pupils taking foreign language courses showed a new approach was needed.
In 2005, 12,826 children studied a language at GCSE, but by 2013 the number had fallen by a third to 8,601. The number of teenagers studying a language at A-level has more than halved to 668 from 1,467.
In a statement the Welsh government said it wanted to prioritise funding for literacy, numeracy and boosting the attainment of pupils from the least well-off families.
The second part of a review of the curriculum is due to look at modern foreign languages, it said.
It stressed courses would still be available in secondary schools and that all primary school pupils were taught Welsh.
"With cuts in our budgets we've had to make some very tough decisions," it said.
'Skills development'
Shadow education minister Angela Burns said: "I find it quite astonishing, given the Welsh government's stated aim that they want to bring modern foreign languages into secondary and primary schools in far greater strength and numbers than they already are."
Responding to the criticism from Westminster on the Welsh Bacc, a Welsh government spokesman said: "Following the review of qualifications we are strengthening the Welsh Baccalaureate and increasing its emphasis on skills development, whilst also ensuring that the revised qualification is manageable.
"The review of qualifications noted that the current language module within the Welsh Baccalaureate was of limited use and that if it were to be retained it would need to be replaced by a more substantial option.
"In developing the revised model it was felt that a strengthened, more substantial language element for all learners would overcrowd the qualification."
The spokesman said centres could still do modern foreign languages within the revised qualification.