Lone betting shop workers must be better protected, says MP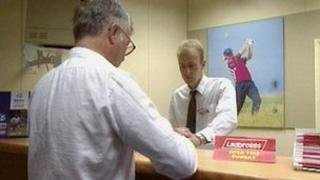 Betting shop staff should not be expected to work alone, an MP and former bookmaker has said amid safety fears.
Islwyn MP Chris Evans wants bookmakers across the country to sign up to a national charter so workers feel better protected.
Mr Evans said he worked in a betting shop alone as a student and constantly felt the threat of violence.
He has called for the charter in a debate at Westminster on Wednesday.
"I was always on my own working," he said.
"It was mostly verbal abuse and low-level abuse, like pens being thrown - there was the undercurrent of violence.
"You're vulnerable when you're on your own and it could always escalate."
Mr Evans, who worked in a south Wales betting shop from 1997 to 2001, wants to see all shops install CCTV, more than one member of staff working, double locks on doors and panic alarms fitted.
"The big chains can do this," he said.
"But the smaller ones - have they got the capability to do it?"
Previously in Parliament, during a debate on the use of fixed odds betting terminals, Mr Evans asked the industry to take steps to prevent single staffing.
He said it followed research from the Community trade union which highlighted how single staffing could prevent workers from tackling issues such as problem gambling and anti-social behaviour.
"Companies have a responsibility to ensure those working in betting shops are given all the support that they need to do their job," he said.
"That is why I have written to leading bookmakers William Hill to ask what steps the industry is taking to prevent single staffing."
Last year a man was robbed of thousands of pounds at a Cardiff betting shop. And in June two armed robberies were reported at separate bookmakers in south Wales.