Armed services bullying action call by MP Madeleine Moon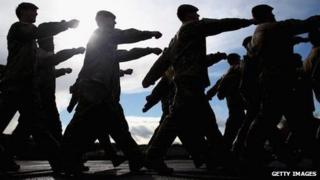 A Welsh MP has called for an urgent overhaul of the way bullying is dealt with by the armed forces.
Bridgend MP Madeleine Moon, a member of the House of Commons defence committee, said a new ombudsman was needed to properly investigate complaints.
Last year, a survey of military staff found one in 10 said they had been a victim of discrimination, harassment or bullying the previous year.
The Ministry of Defence (MoD) said it had zero tolerance of bullying.
Ms Moon said there was an attitude within the profession "that you don't complain", particularly against a more senior officer, which allows a lot of issues to go unresolved.
She said the committee had been looking at the issue with staff surveys since 2006, which had shown an attitude of sexual harassment in particular affecting women and some men.
Last year's Armed Forces Continuous Attitude Survey found 10% of respondents said they "believe they have been the subject of discrimination, harassment or bullying in a service environment" in the previous 12 months.
That came after the defence committee said in February 2013 changes were needed to the current complaints system, which it said did not command the confidence of services personnel.
'Set the standard'
Adrian Weale, a former regular army officer, told BBC Radio Wales he thought an independent ombudsman was a good idea as armed forces personnel had to complain through their chain of command - and that may be via the person they accused of bullying them.
Ms Moon said she had also spoken to soldiers with first-hand experience of bullying and harassment.
"What we need is a complete change in attitude within the military so that actually they join the 21st Century," she said.
"You would not tolerate that in your workplace if you worked anywhere else.
"We need an independent ombudsman who can commission reports, who can investigate what's going on and set the standard for change.
"At the moment you are relying on some of the perpetrators of the problem to create the climate of change and that's not going to happen."
An MoD spokesperson said: "The armed forces have a zero tolerance approach to all forms of bullying, discrimination and abuse.
"All allegations will be thoroughly investigated, either by the civil or military police, and appropriate action will be taken.
"We recognise that it takes great courage for any individual to come forward and report a sexual offence and we have taken a number of steps to improve training and awareness to ensure that service personnel know how to report concerns and what support is available to them.
"We take this issue extremely seriously which is why last year we also set up a new database to improve the quality of information relating to service police investigations."