'Stay vigilant' plea to Wales' coastal communities at high tide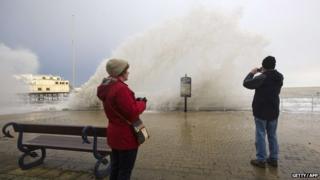 People living in coastal areas are being asked to stay vigilant as strong winds are forecast to coincide with Saturday evening's high tide.
Most of Wales escaped the predicted flooding after the morning's high tide.
But Natural Resources Wales (NRW) warns flooding could be caused by a combination of strong south westerly winds and high tides later in the evening.
NRW has highlighted Newport as a potential trouble spot.
A total of 31 flood warnings and 12 alerts remain in place in Wales.
The strongest gusts in the UK were recorded at Aberdaron in Gwynedd when wind speeds reached 84mph (135Km/h) at 14:00 GMT.
Gusts of 61mph (98Km/h) were also recorded at Aberporth in Ceredigion.
Natural Resources Wales (NRW) has warned conditions could be as bad as early January when a storm surge combining with high tides led to sea defences being breached.
A NRW spokesman said: "The strong south westerly winds are forecast to affect Wales throughout this afternoon and evening, and there is a risk they will combine with the high tide on Saturday evening and could cause flooding, particularly in the Newport area.
"There is also the risk of bigger waves and spray than this morning hitting western coastlines such as at Aberystwyth.
"People are strongly advised to stay clear of promenades and sea fronts as they could be swept away by large waves or hit by debris."
BBC Weather forecaster Alina Jenkins said: "Our concern this afternoon is the strength of the wind. There is a yellow warning from the Met Office of gusts between 50mph to 60 mph an hour quite widely.
"When we combine that with high tides there is a risk of coastal flooding,"
On Sunday, a generally less windy and showery day is expected.
Early warnings for rain and strong winds are in force for Monday and Tuesday, as the unsettled weather continues into next week.
After the latest high tides, the NRW spokesman said: "Some water has come over the top of the sea defences at Llanbedr but not to the same extent as in the past.
"The shored up defences have significantly reduced the amount of water that has breached the dam."
Earlier, there was a 'partial overspill' of sea water at a temporary dam built with sandbags ferried by a helicopter at Llanbedr, Gwynedd.
About 1,000 acres (400 hectares) of farm land at Llanbedr, Gwynedd, have flooded twice a day since a 50m (160ft) breach was punched in sea defences last month.
Since Wednesday, a helicopter has been positioning 500 giant sandbags in the breach to take the brunt of the tides and to stop the hole getting any larger.
The high tide hit the Pembrokeshire coast just after 07:00 GMT and the council reported some minor flooding on footpaths along the river in Haverfordwest while one cafe in Riverside Arcade was also flooded.
A spokesman said water had also coming into the car park at Lower Town Fishguard and Wern Road in nearby Goodwick had also been flooded.
The sea front at Gelliswick, Milford Haven was also being cleared of storm debris and the A487 at Newgale later reopened.
A Pembrokeshire council spokesman said crews would monitor the high tides at "key locations" on Saturday evening and Sunday morning.
National Rail said flooding meant trains were not running between Llanelli and Pantyffynnon, but replacement buses were in operation.
In Aberystwyth, repairs to the town's sea wall damaged by January's storms were completed on Friday.
But 600 university students living on the seafront were either rehoused or accepted the offer to travel home or to another part of the UK for the weekend.
Ceredigion council also urged people living in seafront properties in Cardigan, Aberystwyth and Aberaeron to take care. The local authority said sandbags were being delivered on request.
The leisure centres in Cardigan and Aberystwyth were opened as emergency evacuation support centres, but were not needed on Saturday morning. The youth centre in Upper Borth was also opened.
A Ceredigion council spokesman said; "The presence of council staff at affected locations has meant the public were sufficiently reassured and the evacuation support centres, on this occasion, weren't utilised."
Aberystwyth county councillor Ceredig Davies said: "The predictions were we were going to have a repeat of the storms we saw in January, but this morning it wasn't so bad.
"Predicting the weather, predicting storms is not a science, but we have to make the proper arrangements and to make sure that people are safe."
But there are concerns the weather warnings have had an adverse effect on the town's trade.
John Davies of Food Centre Wales said: "Certainly today there are very few people in town and it's certainly having an effect on individual businesses, and as a town as a whole".