Wales has wettest January in 40 years, says Met Office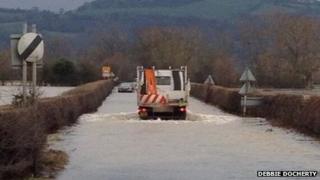 Wales has had its wettest January for 40 years, Met Office figures show.
Rain, coupled with high winds, has led to misery for many with localised flooding and damage in many areas this month, with more expected this weekend.
It has led to Wales having the fourth highest rain total in the month of January since records began in 1910.
But despite the high levels of wet weather, it has yet to beat that of January 1948 where 301.4mm (11.86in) of rain fell.
Statistics up to 28 January this year show that 246.9mm (9.72in) of rain fell in January in Wales, more than any January since 1974, when there was 259.5mm (10.21in).
The Met Office said Wales had seen a drop in the hours of sunshine over the month, with 37.9 hours, or 78% of the average.
But despite the high levels of rainfall in Wales, other parts of the UK have been wetter.
South east and central southern England has already had its wettest January since 1910.
And an area of southern England from east Devon to Kent and inland across parts of the midlands has already seen twice the average rainfall for the month.
More wet weather is forecast with a band of heavy rain is expected throughout Friday which is likely to lead to localised flooding particularly across the south of the country.
Then from Friday night into Saturday high tides combined with very strong winds will create a high risk of coastal flooding, according to Natural Resources Wales (NRW).
Most of the Welsh coastline is likely to experience stormy conditions, but the worst affected areas are likely to be the south and west Wales coasts where tidal surges and large waves could cause flooding and transport disruption.
Current forecasts show that the tides will peak on Saturday morning and again during Saturday evening.
High tides and strong winds will persist into next week with Monday morning's high tide expected to pose a risk of coastal flooding.