Taser gun use by Welsh police forces is cause for concern, charity says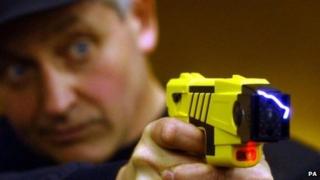 A rise in the number of times police were authorised to use Taser guns is a cause for concern, said a charity.
Gwent, North and South Wales police forces authorised Taser use 1,748 times in 2013, compared with 1,271 in 2012 - a rise of 477.
But the number of times Tasers were fired in Wales has remained relatively static over the last three years.
Police forces said Tasers could be successful in deterring violence in high-risk situations.
Last year a Taser was fired 49 times in Wales, resulting in six reported injuries.
Tasers work by using an electrical charge to disrupt signals from the brain to the muscles causing temporary paralysis which lasts a few seconds.
The number of times officers were authorised to use a Taser rose by more than a third in 2013, according to figures obtained by BBC Radio Wales from three out of the four police forces in Wales. Dyfed Powys Police did not provide figures for authorisations.
The Police Action Centre (PAC) - a charity which represents about a dozen people in the UK who have been injured by a Taser - said the increase in authorisations represents a change to a style of policing by force.
"The figures are concerning because the level of violent crime remains the same and there's no real increase in the level of crime across the country - and that applies to Wales as well," said Sophie Khan, a solicitor advocate and legal director of PAC.
"But the number of authorisations continues to increase, and Tasers should only be used if there is a life-threatening incident to a member of the public or police - and that would involve a rise in violent crime and that isn't happening in this case."
Ms Khan said that in the USA and other countries there was a style of policing by force while in the UK the tradition was of policing "by consent".
She added the figures showed that police officers in Wales were using Tasers outside life-threatening incidents and there were questions as to whether the use was lawful.
Supt Gary Ashton, from North Wales Police, said while the number of Tasers had not increased within the force, more staff had been trained in their use.
"The Taser is brightly coloured and overtly worn by officers and therefore clearly visible when they attend incidents," he said.
"Taser officers attending some incidents of disorder report that because members of the public are aware the officer has a Taser, and presumably are aware of the effects, they are more amenable to officer requests."
Assistant Chief Constable Julian Williams, from South Wales Police, said the Taser provided an "additional tool to defuse high-risk situations involving extreme violence or the threat of violence".
"In the majority of incidents, the mere threat of its use has been enough to deter assailants and ensure a peaceful resolution of the incident," he added.
A spokesperson for Gwent Police said officers who used Tasers were specially trained in line with national guidelines. Each situation where Tasers were used was risk assessed, and deployment was granted by an authorised individual.
"The number of times the Taser has been fired is a relatively small number and this shows that the mere presence of a Taser acts as a deterrent to a potential offender," said the force.
"It should also be noted that not all violent incidents warrant the authorisation of a Taser and that there are reductions in the numbers of firearms incidents."