Banned dogs calls on the increase, say South Wales Police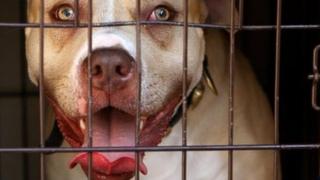 A rise in the number of calls about banned dog breeds is likely to be linked to illegal dog fighting, South Wales Police have said.
The force said 122 dogs were seized in 2012/13, compared to five in 2008/09.
Dog legislation officer PC Walter Pennell said treadmills and steroids were being used to improve the fitness and power of fighting dogs.
Gethin Russell Jones from RSPCA Cymru said gathering evidence in such cases was painstaking and slow.
Mr Pennell said "underground" dog fighting circles were very organised and extremely difficult to infiltrate.
He told the BBC's Good Morning Wales radio programme that fights usually take place in secluded areas with little public access making organisers very difficult to catch in the act.
Police investigating alleged fighting will look for equipment such as treadmills and steroids, which are used to make dogs fitter and stronger, he said.
PC Pennell, who has responsibility for seizing and identifying banned breeds, said fighting dogs involved often suffer "horrendous" injuries.
'Barbaric'
Evidence of veterinary equipment is often an indication a dog is being used for fighting, he said, because owners can't take them to their local vet.
But he said the public are helping to tackle the issue by reporting incidents.
"We're receiving more reports about illegal dogs," he said.
"It's an obsession with these people - it's barbaric. Two dogs fighting, sometimes to the death, it's a disgusting way for people trying to enjoy themselves and earn money through betting illegally."
Many dogs, most commonly banned types like pitbulls, are bred to fight, with champions worth up to £40,000 to £50,000, he said.
But sometimes pet dogs are stolen and are used to help train fighting dogs.
Gethin Russell Jones from RSPCA Cymru said gathering evidence in such cases was a painstaking process because the burden of proof needed to prosecute owners was very high.
"We have to gather details about the apparatus being used, maybe some video evidence.
"Some of our special operations units have got to be in a place where they can take some hidden footage, so it can take a long time."
There are four banned dogs under section one of the Dangerous Dogs Act.
It is also against the law to sell, abandon, give away or breed a banned dog.