Nearly 18,000 new building jobs for Wales, report says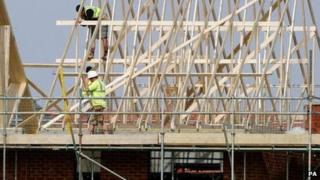 Nearly 18,000 new construction jobs are expected to be created in Wales over the next five years, researchers say.
The Construction Skills Network (CSN) forecasts the industry in Wales will grow 3.4% annually between now and 2018, boosted by work on the new Wylfa nuclear power station on Anglesey.
CSN predicts Wales' output growth will be above the UK average of 2.2%.
The Home Builders Federation said the industry in Wales "is starting to pick up".
The five-year CSN report was released by the Construction Industry Training Board (CITB), which aims to ensure employers have the right skills and training.
It forecasts infrastructure "is set to be the chief driver of growth in Wales", second only to the south west of England.
The private housing sector will be the second reason for the construction industry's growth in Wales, the report said, helped by the Welsh government's Help to Buy Wales scheme.
It said projects including the £1.2bn Coed Darcy development near Neath and regeneration works in Merthyr Tydfil expected to "significantly boost employment and output prospects".
A total of 17,850 new construction jobs are expected to be created in Wales by 2018, it forecasts, with the UK total estimate at 182,000.
Wyn Prichard, CITB Wales director, said: "The CSN report shows that things are starting to look more positive for Wales, following a challenging few years.
"However, employment levels in 2018 are still forecast to be below pre-recession levels, so we need to ensure that measures are put in place now to secure sustained growth in the long-term."
Julia Evans, chief executive of the National Federation of Builders, said: "The Welsh government's support and continued investment in house-building, nuclear and other infrastructure projects is ensuring a broad-based recovery to encourage employment growth and the Construction Skills Network report helps to pinpoint which skills will be needed so businesses can plan."
Richard Price, planning and policy advisor Wales for the Home Builders Federation, said: "After a number of extremely difficult years, house building in Wales is starting to pick up.
"The Welsh government's Help to Buy scheme is helping address the lack of mortgage lending that has been the biggest constraint on housing supply.
"If people can buy, builders can build, so creating local jobs both on construction sites and in the supply chain."
Karen Jones, human resources director for Flintshire-based Redrow Homes, said: "The housing market in Wales is emerging from a challenging period.
"However, with the Help to Buy Wales scheme now available and consumer confidence gradually returning, we are looking forward to a positive time of growth for the house-building sector."
Ken Skates, deputy minister for skills and technology, said: "Significant progress is being made within the sector, and we will continue to work in partnership with CITB and construction businesses in Wales to provide them with the support they need so they are in the best position possible for future economic growth."