82 Lloyds Banking Group jobs go in Wales as part of UK revamp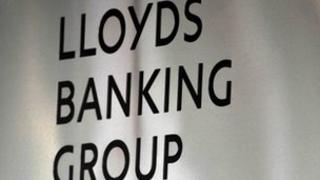 Eighty-two jobs are to go in Wales with another 12 relocated after Lloyds Banking Group announced plans to cut over 1,000 posts across the UK.
The cuts come in its retail, risk, operations and commercial banking divisions as part of a continuing overhaul of the business.
In Wales, 60 managerial posts, which covers wide areas in commercial banking will be axed, while 22 other jobs in Cardiff, Swansea and Newport are going.
Twelve other posts are being relocated.
They will be transferred to a non-Lloyds company handling inbound mail processing.
The bank, which is 32.7% owned by the taxpayer, said in 2011 it would cut up to 15,000 jobs.
The latest cuts will take that tally to 11,760.