Council cuts cracks 'begin to show' says auditor general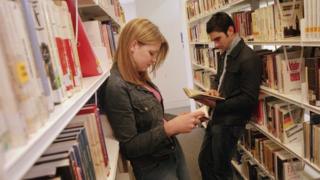 Cracks are beginning to show because cash-strapped councils are not planning budget cuts properly, a public spending watchdog says.
While most councils were clear about how much must be saved, many were less certain about how they would manage, the auditor general for Wales said.
There was also a lack of planning for the "longer term".
The Welsh Local Government Association insisted councils were on top of their finances despite the challenges.
Councils across Wales are currently reviewing services in response to a reduction in their budgets from the Welsh government.
Auditor General Huw Vaughan Thomas said that despite coping with considerable pressures up to now, "cracks are beginning to show" for some authorities.
"Local government in Wales has had a more generous settlement than England recently, but now faces sharp reductions in funding," he said.
"This is coupled with pressures from a growing, and ageing, population - with rising demands in areas such as social services, education and waste."
Mr Thomas added it spelled trouble for local authorities if they did not have "robust, longer-term strategies in place which are linked to medium-term financial plans".
"Too many councils are falling short and running out of time," he said.
"I urge them to follow the recommendations, and practical advice and tools, contained in my report."
Steve Thomas, chief executive of the Welsh Local Government Association (WLGA), said over the last year council budgets had been cut by 4.5% with about £200m taken out of local government, likely to rise to £500m in the next three years.
He told BBC Wales that the Wales Audit Office could help the WLGA mount an argument with the public that councils would have to do things in a different way.
He said councils had some "unpalatable decisions" to make but insisted local authorities were in top of their finances at the moment.