Crisp packet photo of poet RS Thomas 'undignified'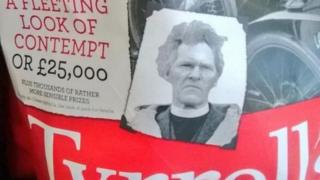 An English gourmet crisp company has been criticised for unwittingly using a picture of famed Welsh poet RS Thomas to promote a humorous competition.
Herefordshire-based Tyrrells used the image of Thomas looking less than happy to depict a "fleeting look of contempt".
The crisp-maker admitted it bought the picture from an image library without realising who it was.
Academic Jeremy Noel-Tod was angry the dead poet had been used to sell crisps.
He told the Church Times that Thomas, who died in September 2000, was being used to sell "overpriced fried potatoes".
Tyrrells used the photo of RS Thomas on one of a series of crisp packets offering a £25,000 prize instead of a less desirable alternative.
These included "a pack of lies", a day as a fictional vet and - in the case of the Thomas packet - "a fleeting look of contempt".
A Tyrrells spokesperson said: "We bought the rights for this picture from an image library that licenses and publishes photographs.
"We were looking for a suitable photo for our on-pack competition and we selected the image based upon its fit.
"The connection with the late RS Thomas was not known at the time and had no bearing whatsoever on our decision process."
Dr Noel-Tod, a lecturer in literature at the University of East Anglia, complained to the company about their use of the poet's photo.
"My reaction was a mixture of real amusement at the absurdity of it and real anger that a respected poet should suffer such an undignified posthumous fate for the sake of selling overpriced fried potatoes," he told the Church Times.
Nobel nomination
Ronald Stuart Thomas was born in Cardiff in 1913 and grew up as an English-speaking child in Holyhead on Anglesey.
He returned to Cardiff to train as a priest for the Church in Wales.
It was his time in Radnorshire, working as a parish clergyman, that stimulated some of his earliest and most memorable poetry.
Towards the end of the 20th Century he was nominated for the Nobel prize for Literature.
RS Thomas died on 25 September 2000 at his home at Pentrefelin near Criccieth. His ashes were buried in the grounds of St John's Church in Porthmadog.