Daily Post newspaper stops sales outside north Wales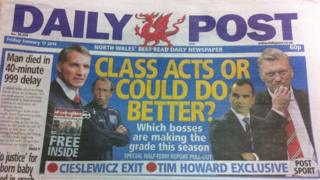 The Daily Post newspaper will no longer be sold outside north Wales.
Trinity Mirror, which owns the paper, said only about 80 copies were sent to south Wales every day and all were in the Cardiff area.
The firm said the move was largely down to a change in the habits of readers, who could still access the paper online or on its mobile app and tablet forms.
The Welsh government said it was concerned by the announcement as a sign of declining media presence in Wales.
The newspaper group stopped sending papers outside of north Wales on 18 January.
A letter to its readers said the Daily Post had successfully moved into new publishing arenas, with the launch of its e-editions and mobile apps.
Declining media
"These have already proved extremely successful, and the continued and growing development of our content in digital format has enabled the Post to grow its audience across multiple platforms, in line with the requirements of readers who - while they may still enjoy printed newspapers - often find that mobile-compatible formats fit more readily with their busy lives," the letter said.
"Therefore, in line with the trend of readership migration to our other platforms, we believe the time is now appropriate to call a halt to the daily deliver of a small number of Daily Post newspapers available on sale in Cardiff."
Mike Unger, former editor of the Daily Post, told BBC's Good Morning Wales programme he was disappointed at the news.
"I am a bit sad because although it's available on the e-edition and on your mobile phone and things like that, people still prefer the paper," he said.
"I'm told it's less than 100 copies, but they are 100 influential copies. They are the people in the councils, the Welsh assembly, the authorities and the elected members for north Wales.
"It does matter because they need to know what's really going on in their patch."
A Welsh government spokesman told BBC Radio Cymru's Post Cyntaf programme: "Although the Welsh government has no direct responsibility in relation to the newspaper industry in Wales we are concerned with this announcement, which could have an impact on an already declining media presence in Wales."
The Daily Post was established 158 years ago and primarily reports on news and events in north Wales.
Its sister publication - the Liverpool Daily Post - went weekly in 2011 and closed in December after nearly 160 years publication.