Cigarette plain packaging law would apply in Wales, AMs say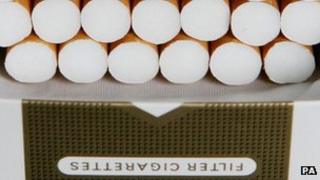 Assembly members have voted for any future UK government law on plain cigarette packaging to also apply in Wales.
The UK government is reviewing packaging with a view to legislating.
The Welsh government believes it has the power to introduce its own law but says the regulations are best introduced at a UK level.
Plaid Cymru has raised concerns the UK government may decide not to introduce the law.
Its health spokesperson Elin Jones said it would be a shame to miss the political consensus on the issue in Wales.
After appearing to distance itself from standardised tobacco packaging in July 2013, the UK government announced in November that the policy would be brought in after the review if "we are satisfied that there are sufficient grounds to proceed, including public health benefit".
The review, led by paediatrician Sir Cyril Chantler, is set to focus on a pilot scheme in Australia, which became the first country to legislate for standardised packaging in 2011.
But Ms Jones said: "We do not have 100% certainty that the Westminster government will use these powers, and it would have been preferential to give legislative powers to Wales so that we could introduce this in Wales only if the UK government decides not to do so."