Call for greater access to the outdoors in Wales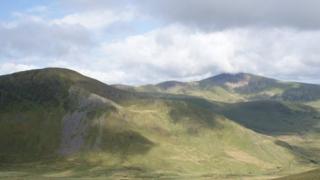 A body representing climbers and hill walkers has called for greater access to the outdoors in Wales, ahead of a Welsh government review on laws.
The British Mountaineering Council (BMC) said changes to current laws could "fundamentally improve" the way people enjoy the outdoors.
But the Country Landowners Association (CLA) has said it has concerns about the cost of "unfettered access".
A Welsh government green paper on the review is due to be published soon.
The review will focus on three main areas:
increasing responsible access to the outdoors, both in urban and rural areas
improving the extensive public path network
increasing the amount of land available for allotments and community gardening
Elfyn Jones, the organisation's access officer for Wales, said the review was a "rare and vital opportunity to drastically improve access for the people of Wales and its many visitors".
"Responsible recreation and conservation have been proven to go hand in hand," he said.
"That is why we're calling on everyone who values access to our countryside, mountains, rivers and coastline to support our Open Wales campaign to see access laws extended and simplified."
He said the BMC had 5,000 members in Wales but the proposals would also affect its entire membership of 76,000.
The CLA has already said it wants to see sensitive wildlife and fish spawning sites protected, members of the public kept safe from livestock, and to avoid conflict with legitimate users.
'Blanket proposals'
It said there was concern over the potential legal liabilities and insurance costs that would be "heaped onto rural businesses as a result of unfettered access to the countryside".
Ben Underwood, CLA Wales director, said: "Reaching agreements at a local level ensures local people and visitors alike can explore the Welsh countryside safely without damaging the interests of thousands of rural businesses who make their living from the land.
"We would strongly resist any blanket proposals that did not take into account local diversity."
The Welsh government said there was a "general consensus that the current legislation surrounding access and outdoor recreation is outdated and often difficult to comprehend".
A spokesperson added: "There is a need for greater clarity over where people can go and what they can do in terms of access to the outdoors as better access can bring a number of benefits to Wales in terms of tourism, physical activity, health and well-being, jobs and the economy."
He said the Welsh government would welcome responses from all interested groups.