Cervical cancer screening fears delay testing, says trust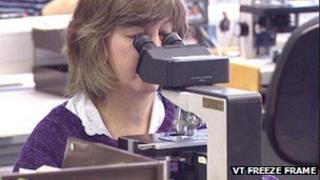 Confusion and fear about cervical cancer and testing is putting women's lives at risk, research has found.
A survey found 36% of women aged 25-29 questioned had failed to attend a test in 2012-13, with some citing worries about pain or embarrassment as factors.
The research is part of a campaign by Jo's Cervical Cancer Trust as part of Cervical Cancer Prevention Week.
The trust said annually one in five women of all ages missed tests, with some taking years to catch up.
Debbie Hall-Quinlan from Llanelli, who was diagnosed with cervical cancer in September 2012 when she was 31, urged women not to miss their tests.
Mother-of-two Ms Hall-Quinlan said the consequences of doing so could be far worse.
"For those two to three minutes that you are with the nurse and she is taking the swabs it could really prevent a lot more pain as far as having to have radiotherapy treatment and chemotherapy," she told BBC Radio Wales.
"And then there are the side effects you have to live with afterwards."
She said the first indication she had had that something was wrong was severe fatigue, prompting her to seek medical advice.
A survey by Jo's Cervical Cancer Trust, launched during Cervical Cancer Prevention Week which began on Monday, looked at awareness levels for the disease and the attitudes of 2,021 women towards screening.
In Wales in 2012-13, 36% of a sample group of the youngest women aged 25-29 eligible for screening failed to attend for a test while a quarter of 60-64 year olds also did not attend.
'Misunderstand'
The youngest group of women said they were worried the procedure would be painful and 30% thought it would be embarrassing. A further 12.5% worried about what the results would say.
The trust's chief executive Robert Music said that annually one in five women in the UK would fail to attend cervical screening. Young women delayed screening for 15 months and the oldest eligible group of 60 to 64-year-olds delayed for 33 months.
"The study shows a clear need to educate women on the causes of cervical cancer and reiterate the importance of cervical screening," he said.
"Currently just under 3,000 UK women are diagnosed each year and if those who are delaying their screening continue to misunderstand the disease and how it can be prevented, then we are concerned that screening uptake will continue to fall and incidence will start to rise."
The survey comes after figures published in October showed Cervical Screening Wales screened over 220,500 women from April 2012 to March 2013. This means a total of 76.3% of women eligible for screening - those aged between 20 and 64 - had an adequate cervical smear test in the five years to 31 March last year.