Library closure plans scrutinised as council cuts bite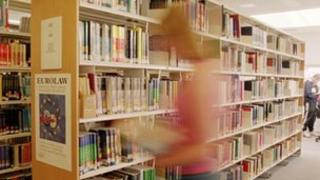 Nearly thirty public libraries across Wales face closure in March as councils insist they will still meet their legal duties to provide the service.
Fourteen libraries are under threat in Rhondda Cynon Taf with nine in Neath Port Talbot and two each in Wrexham and Ceredigion, a total of 27.
The plans are now under scrutiny by the Welsh government.
Other councils, including Gwynedd, Flintshire and Monmouthshire, are reviewing their provision for 2015.
Questions are being raised as to whether councils which close libraries to save money can still meet their statutory duty to provide the service.
Council leaders argue that they can make savings and still provide a "comprehensive and efficient" library service.
Volunteer support
Neath Port Talbot council hopes to save £240,000 a year by closing nine of its 17 public libraries but says it is working with those communities affected to find ways for local volunteers to take them over.
Mike James, cabinet member responsible for libraries, told the BBC's Eye on Wales radio programme he was confident that the slimmed-down service will still meet the council's legal obligations.
"The work that has been done by our officers is fantastic," he said.
"They have taken the time to visit each of these libraries we intend to close, taken time with each of the members of the public that have raised issues.
"I'm confident that where we are going with this is the only way forward and I believe that at the end of it we'll find that we'll maybe have a better library system, run by the people for the people, than we had before."
Polly Davies, who chairs the village residents' association in Resolven near Neath, is hoping they and the community council can take over their local library and run it with volunteers after the county council announced its closure.
"The first reaction was shock; the second one was anger," she told the BBC's Eye on Wales radio programme.
"Everyone is very concerned right now. The one thing we do not want to do is lose that library service."
The library in Resolven has four computers, and people had become very reliant on that service, Ms Davies added.
"We're right across the street from Ynysfach Primary School - classes come over very week to get new books," she said.
"They have writing competitions. They have a thriving song and rhyme session once a week. They hold a monthly reading group for adults. They just never stop."
Core services
Under the Public Libraries and Museums Act 1964 councils have a legal duty to provide a "comprehensive and efficient" library service.
But that phrase has never been defined or tested in court and, according to libraries expert Dr Steve Davies of Cardiff University, local government does not always fully appreciate its responsibilities.
"A lot of councils don't even appear to know that libraries are actually a statutory service," he told Eye on Wales.
"They have talked about defending the core education and social service budgets and then the others are no so important, apparently."
The responsibility to superintend library services in Wales rests with the culture minister John Griffiths.
He has announced an expert review of councils' current and future plans to deliver public library services.
The culture minister told Eye on Wales that his officials are still reviewing councils' library closure plans to ensure that they do not leave local authorities in breach of their legal duties.
"Any changes to services need to be evidence-based and they need to follow proper consultation with communities," John Griffiths said.
"My officials are working with local authorities to understand the process that has been gone through, to consider the statutory requirements and to make sure that what eventually emerges is within those requirements.
"Talks are on-going at the current time and that will continue now, before budgets are finally set."
Eye on Wales can be heard on BBC Radio Wales on Sunday, 19 January at 13:30 GMT.